Foster Care Conference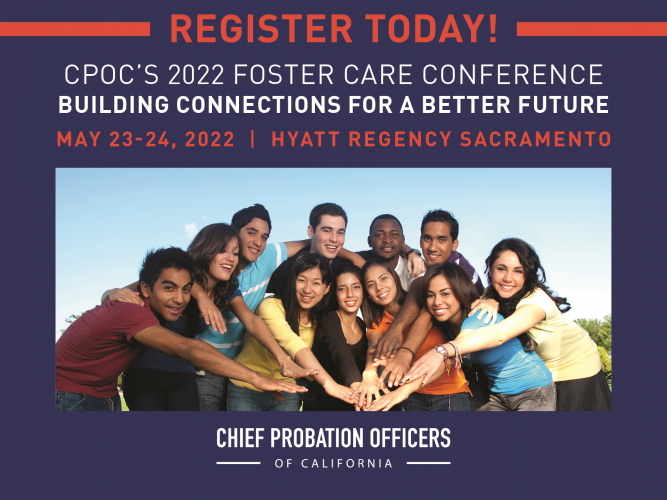 Registration Deadline – Monday, May 16th
The CPOC Foundation is excited to announce that our foster care conference will be held in-person at the Hyatt Regency Sacramento on May 23-24, 2022. This event will provide opportunities to explore ways to enhance services and supports for foster youth and families. Stay tuned for more details!
Schedule Timeframe
Monday, May 23rd 9:00 am – 5:00 pm General and Concurrent Sessions
Tuesday, May 24th 8:30 am – 2:30 pm General and Concurrent Sessions
Conference Cost: $250/per person
2022 Foster Care Conference Agenda
TO REGISTER FOR THE CONFERENCE, CLICK HERE
HOTEL INFORMATION:
Hyatt Regency Sacramento
1209 L Street, Sacramento CA 95814
$145 a night (not including state and local taxes/fees)
Discounted rate expires May 2, 2022
TO RESERVE A ROOM, CLICK HERE!
STC #04839137
Certified for 12.5 Hours
COVID-19 Safety Precautions and Protocols:
CPOC will abide by and implement applicable safety protocols consistent with the California Department of Public Health, Centers for Disease Control (CDC) and Sacramento County's guidelines as well as any requirements instituted by the Hyatt Hotel. COVID-19 protocols and updates will be provided to registrants prior to the conference.
For questions, please email ccrtraining@cpoc.org