CPOC Statewide Conference 2024: Call for Presentations
Submission deadline: December 5, 2023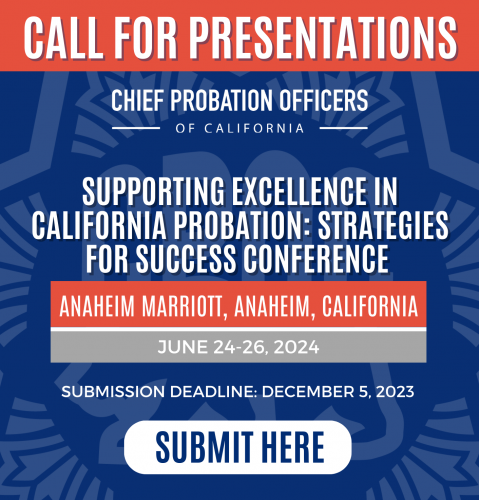 CPOC and CPOC Foundation are excited to announce the Call for Presentations for our upcoming statewide conference Supporting Excellence in California Probation: Strategies for Success!
This transformative training event will help educate and elevate probation professionals throughout California and is designed to equip attendees with the knowledge, skills, and tools necessary to continue to enhance probation work in California.
We invite probation professionals, academics, stakeholders, and practitioners to submit presentation proposals on the subject areas in the attached flyer.
Submission deadline: December 5, 2023
Call for Presentations - Statewide Conference 2024 Flyer
SUBMISSION GUIDELINES:
Presentation proposals should be submitted online by December 5, 2023.
Each proposal should include a title, a brief 25–35-word synopsis of the session, a 250-word abstract, a brief bio of the presenter(s) in paragraph format, and the preferred session format (lecture, panel, workshop, or interactive discussion).
Presentations should be 90 minutes in duration, including time for Q&A.
Panel sessions are limited to 4 presenters. A bio is required for all proposed panelists.
Join us at the Supporting Excellence in California Probation: Strategies for Success Conference to be a part of the conversation on advancing probation practices in California. Your contributions can help shape the future of probation and promote positive change in the criminal justice system. We look forward to receiving your proposals and welcoming you to our event.