31 Counties Attend Pretrial Training in San Joaquin; Learn About Model Pretrial Program
San Joaquin County Probation Department Hosted Pretrial Training as Counties Prepare for Pretrial Reform in California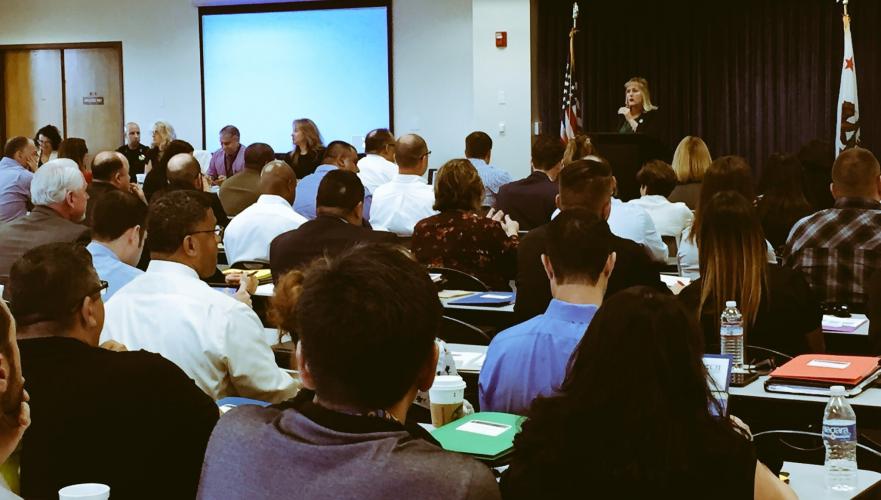 Last month, San Joaquin County Chief Probation Officer Stephanie James hosted over 130 representatives from 31 counties throughout California to provide information and a day of training on San Joaquin County's successful Pretrial Program.
Interest in learning more about the successful San Joaquin County Pretrial Program has been raised in recent months since the passage and signing of Senate Bill 10 – which will implement statewide pretrial reform, essentially eliminating cash bail and replacing it with a pretrial risk assessment process – a system largely in place and working successfully in San Joaquin County.
For the past four years, individuals booked into the San Joaquin County Jail have undergone a pretrial assessment by probation staff to determine if they should be released on their own recognizance or retained in custody while their case moves through the court process. Pretrial assessment is a step toward removing a defendant's finances from the equation of whether or not he or she should be free from custody during the court process in San Joaquin Count, though bail remains as an option for those remaining detained.
A Pretrial Report, including the defendant's criminal history is provided to the Judge to determine a defendant's release suitability. On misdemeanor cases, Pretrial Staff issue citations for those that are eligible for release. The stated goal of the San Joaquin County Probation Pretrial Assessment Unit is to screen out the low risk offenders from high risk offenders to assist with the jail's population management and to decrease the risk to public safety.
Throughout the day of training participants heard different perspectives from a stakeholder panel including Superior Court Judge Richard Vlavianos, District Attorney Tori Verber-Salazar, Public Defender Miriam Lyell, and Assistant Sheriff Greg Williamson.
Following the panel, participants were given an overview of the program and then able to study the Year 3 evaluation report presented by the San Joaquin Community Data Co-Op. Afterwards came a tour the Pretrial Assessment Unit located within the jail as well as a tour of the Pretrial Monitoring Unit. Next participants were able to hear in more detail from panels on assessment and monitoring from the probation officers and supervisors who run the day-to-day operations of the San Joaquin County program.
The Pretrial Assessment and Monitoring Program in San Joaquin County has drawn praise from an array of local leaders, including District Attorney Verber Salazar, Public Defender Lyell, Judge Vlavianos, and Sheriff Steve Moore.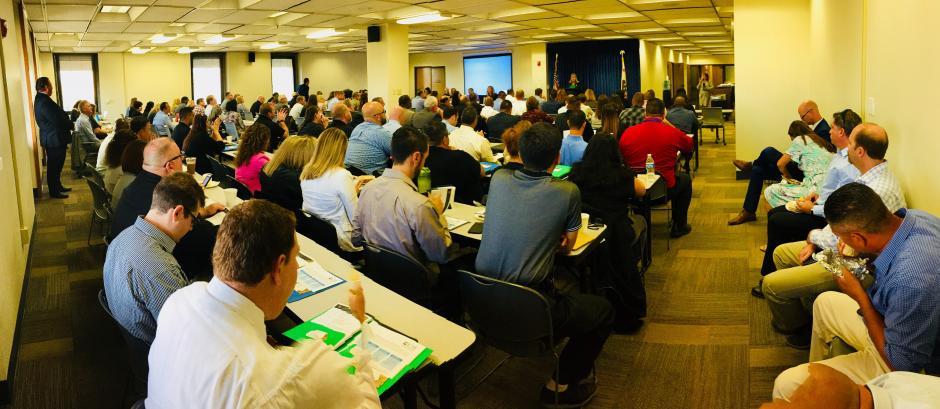 Local proponents have said the pretrial program gives the county a leg up as local governments statewide begin to prepare for the development of a pretrial system under SB 10.
"Using a validated pretrial risk assessment tool will keep those who are at high risk in custody while going (through the court system), and will keep low-risk offenders with their families," Chief Probation Officer Stephanie James said. "We think it'll be better for public safety because it's based on risk, not how much money they have."
Most notably, the San Joaquin program has an over 97% success rate.
Other county partners in attendance who spoke about the program all hailed the success of the program, both in protecting public safety, as well as giving opportunities to low-risk offenders to maintain critical community ties and employment while awaiting trial.
Greg Williamson, Assistant Sheriff in San Joaquin said "The pre-trial process serves as an essential piece for the San Joaquin County Sheriff's jail and booking process. Through the use of a validated tool, the pre-trial assessment helps minimize the number of those who are staying in jail while providing monitoring and supervision to assure that program participants maintain positive ties within the community while awaiting their day in court."
San Joaquin County District Attorney Tori Verber Salazar spoke during the pre-trial program training day and also had high praise for the program.
"Being able to use tools to assess who needs to stay in custody and who doesn't has alleviated pressure on the entire system," Salazar said.
Superior Court Judge Richard Vlavianos discussed the success of the program and how the pre-trial process helps judges in making informed decisions about release.
San Joaquin County Public Defender Miriam Lyell also spoke during the program for the over 80 people in attendance and has said about the passage of SB 10,
"I think it is a good step forward," she said. "The money bail system of justice created an unequal system. Money bail had nothing to do with ensuring whether or not you would return to court or whether or not you were a risk to the public."
The 31 counties in attendance learned a great deal about setting the framework and how to take those components to fully implement a successful program like San Joaquin's.
"It was incredibly educational and definitely gave us solid training of what building out a pre-trial program will take," said Marin County Chief Probation Officer Mike Daly. "This will help us tremendously to be able to successfully implement the requirements of SB 10 and make this state reform a success at the local level."
Chief James closed the say by saying "we are very proud of what we have accomplished with pretrial in San Joaquin and are humbled to be able to share our success and the lessons we have learned with so many throughout California."