Addicted & Unhoused – How Stanislaus Probation Provides a Bridge to Overcome Addiction
Brad's Story of Redemption & Recovery Through Stanislaus County's CARE Program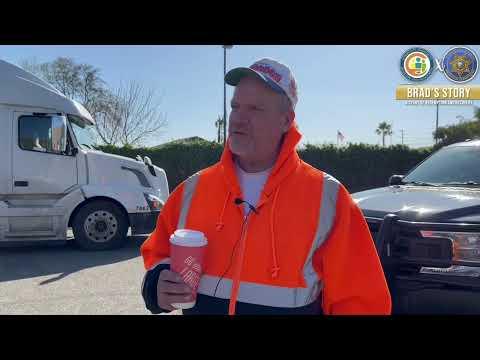 Stanislaus County innovated to help address public health and safety where the crossroads of addiction, mental health, homelessness and public safety meet through their Community Assessment, Response, and Engagement Team (C.A.R.E.) team.
Led by a Probation Manager, C.A.R.E. is a cross-sector, cross-agency, multi-disciplinary team focused on helping to restore individuals with needed services and supports through an accountability lens.
In addition to Probation, the multi-disciplinary team includes members from the City of Modesto police, a Public Health nurse, Social Worker, Mental Health clinicians, a data analyst, deputy district attorney and public defender, among others. In its entirety, the C.A.R.E program has representatives of twenty or more partners who directly serve those who are homeless, show signs of high-risk health and safety behaviors, mental illness, criminal behavior and substance use.
The approach is similar to the work done in probation, clients are referred to the program through law enforcement and then the team does an assessment and creates an individualized case plan to address the specific needs of the client. This case plan provides a roadmap to success for both the client and the team working with them – all designed to work through the barriers the person is facing and get them the specific services they need to overcome those barriers.
Most clients come with pending criminal justice issues, often the result of quality of life issues. In addition to a probation manager overseeing the program, there is also a Probation officer assigned to the C.A.R.E. team who works with the courts and provides updates on the clients' progress within the C.A.R.E program as potential cases or warrants are pending. For clients working their program, cases can be dismissed, or charges dropped by the District Attorney or City Attorney.
Substance abuse comes in many shapes and forms but many people may not know where or how that path starts for people. In this video, C.A.R.E. Team client, Brad is highlighted and discusses the root causes of his addiction. Brad struggled with homelessness which was fueled by his substance abuse for more than two years. His addiction was a result of a tragic family event that took place and shook his world. Brad turned to drugs as a way to escape his reality, but this only led to a quicker downfall.
There are approximately 160,000 unhoused Californians. Factors that contribute to homelessness are mental health, addiction, tragic life occurrences, as well as poverty, job loss and affordable housing.
Stanislaus County's Community Assessment, Response, and Engagement Team (C.A.R.E.) touched base with Brad and started providing him with services which started the path to rehabilitation, recovery, and redemption. Including getting him the needed training to become a truck driver and get a good paying job with the opportunity to make into a career.
Brad has been clean for almost a year, and he has reconnected with his family. He is working as a truck driver and traveling across the country. Thanks to his experience driving semi-trucks in severe weather, Brad has even been hired by Tesla to drive the first all-electric/self-driving Tesla Semi!
His dedication and achievements are inspiring. Brad has stayed in touch with his C.A.R.E. provider through the months to share these achievements. Watch his complete and inspiring story here!
For more information on Stanislaus County C.A.R.E team click here or to read the C.A.R.E team brochure with a full list of partner agencies click here.