Chief Probation Officers Statement: Transfer of the Division of Juvenile Justice to Counties in the State Budget
Evolution of Reform with Probation and Juvenile Justice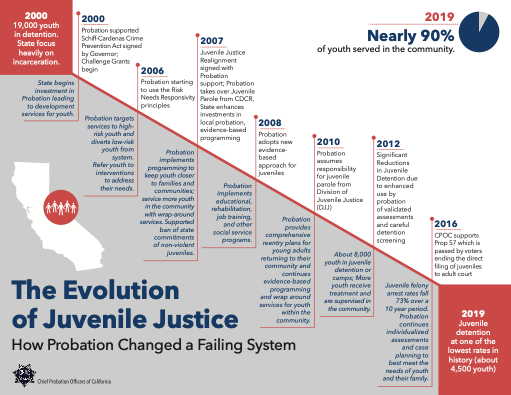 Sacramento, CA, June 24, 2020 – The Chief Probation Officers of California (CPOC) today issued a statement in response to the decisions made in the State Budget on transferring youth under the supervision of the Division of Juvenile Justice (DJJ) to counties. This budget has left unclear the lines of responsibility and implementation. CPOC Executive Director Karen Pank issued the following statement:
"We appreciate the Governor and Legislature wanting to craft a DJJ closure plan that gives our courts and communities the confidence in our system to ensure more youth won't end up in the adult system. However, as proposed, the policy of simply closing DJJ, which is the main alternative to youth being transferred to adult court, without a substantive plan to replace it, is of great concern. As currently crafted, the closure of DJJ brings the potential for relative chaos for youth who often come into the system due to a life of chaos. It's destabilizing not just to the youth we serve but detrimental to the entire juvenile system. There must be stability to effectuate reform and meet the needs of youth in a compassionate, trauma-informed and health focused way.
"California Probation has moved our system in this direction for the last 20 years and has either led or partnered on every major criminal justice and juvenile justice reform. As the data demonstrates, our focus and expertise is to effectively helps youth out of the system. Due to our efforts, juvenile detention rates have fallen by 60%. We transformed a juvenile probation system that was focused on incarceration, to one focused on rehabilitation with 90% of youth served in the community.
We are prepared to help the state shape what is needed because we have to protect each youth currently at DJJ and those who will be impacted in the future by the decisions made today. We are gravely concerned because the focus should be on how to create stability and heal trauma rather than to inadvertently add to it. We are ready to provide our expertise and experience to quickly plan and implement the best way to meet the needs of youth, keeping them out of the adult system and continuing to effectively evolve juvenile justice."
CPOC has been a long champion of juvenile justice reforms. Just this year CPOC proposed a policy that would realign emerging adults out of the adult system and into the juvenile system where they would have a greater opportunity for success. CPOC's policy proposal would change the age of juvenile jurisdiction to allow 18 and 19-year-old youth to access rehabilitation and wrap-around services as well as seal their record upon successful completion of their rehabilitation.
Since 2007, juvenile detention rates have fallen by 60% and felony arrest rates by 73%. Currently, 90% of the youth under Probation's care and supervision are safely served in the community, reserving County juvenile hall to manage high-needs youth that require specialized care and services.
To see the evolution of reform with probation and juvenile justice, see the image above.
CPOC and the 59 Chief Probation Officers across the state are dedicated to community safety and ending the cycle of crime by helping clients onto a healthy life pathway.
For more information about CPOC, please go to www.cpoc.org.
Media Contact: Laura Dixon laura@cpoc.org 510-384-3020