Napa County opening an unjail-like reentry facility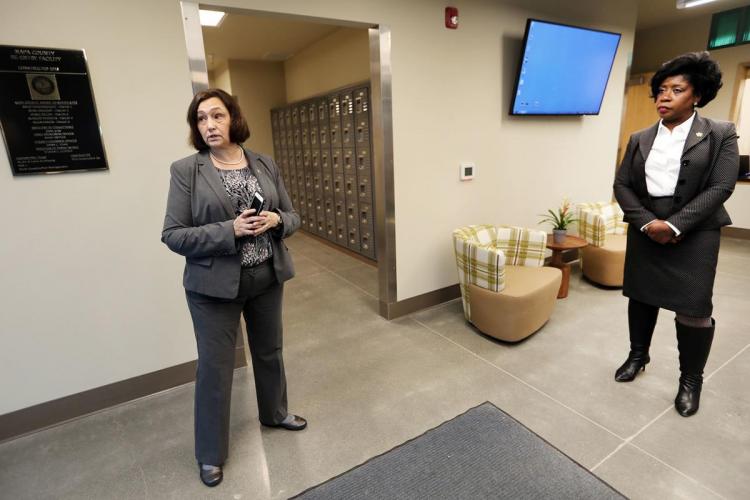 Napa County is opening a $23.4 million, 72-bed jail reentry facility for low-risk inmates that looks nothing like a typical jail.
Inmates won't be inside cells with bars on the doors. No razor-wire fence surrounds the property along Highway 221 near the Syar quarry.
This is where Napa County will try to give inmates skills to successfully return to society and hopefully never return to jail. Some will take classes at the reentry facility while some may leave at times to go to classes at Napa Valley College or to a job.
On Friday, Napa County held a ribbon-cutting ceremony for the reentry facility and gave tours. The facility is managed by the county Probation Department and Department of Corrections.
The county strove to avoid an "abandon hope, all ye who enter here" architectural tone with the building.
"You will look at it and go, 'This isn't like any jail,'" county Chief Probation Officer Mary Butler said.
Then again, it's not a resort. Inmates will sleep on bunk beds in dormitories. The floors are polished concrete, and the door moldings are metal.
The facility is monitored by cameras. At least three correction officers will always be present. Inmates leaving for work or classes will wear ankle location monitors.
The inmates won't be there for rest and relaxation, Butler assures.
"You don't get to come here and hang out," Butler said. "You have to work your program to be here."
Inmates might take substance abuse classes or undergo counseling. They will be at the reentry facility at least 30 days and perhaps as long as a year or more.
Butler said inmates at the regular jail have people telling them what to do. Then they are released and go home where no one tells them what to do.
"This is kind of in the middle, where they're going to have some rules and some things they have to do, but they're also going to have a little bit of flexibility," Butler said.
The reentry facility program is meant to be a transition back to normal life.
Napa County already has a separate day reporting center program that seeks to give life skills to people out of jail on probation. Butler said the recidivism rate for participants over a decade is 24 percent.
While different than the day reporting center program, the new facility's goal is similar. It remains to be seen what type of recidivism rate the reentry facility program will have.
Some taxpayers might wonder why Napa County spent money building a reentry facility rather than simply offering life skills programs at the downtown Napa jail. Director of Corrections Dina Jose said the maximum-security jail wouldn't be conducive to the more open atmosphere of the reentry program.
At the reentry facility the residents—that's the term for reentry facility inmates—will wear their own clothes, not jail uniforms. The goal is to change their thinking, Jose said.
The first residents should come to the reentry facility on March 4, she said.
Friday's ribbon-cutting ceremony included speeches.
State Sen. Bill Dodd, D-Napa, was a county supervisor when the county in 2004 began studies that resulted in the reentry facility. The evidence shows that this type of program leads to better results for inmates, he said.
"Of course, that means it will be better results for the public," Dodd said.
Rep. Mike Thompson, D-St. Helena, praised the reentry facility.
"It's going to change lives, and it's going to save money," Thompson said. "That's a pretty good combination."
Assemblymember Cecilia Aguiar-Curry, D-Winters, said these type of programs are discussed in the state Capitol.
"To see one come to fruition in my district is phenomenal," she said.
Napa County in April 2017 awarded a $16 million contract to Vila Construction of Richmond to build the reentry facility, with $13.4 million coming from the state. The $23.4 million total cost includes offsite utilities.
The reentry facility is to be the first phase of the Napa County Justice Center on 27 acres that the county purchased in 2014 for $6.5 million. The county also plans to build a $128 million replacement jail there. Jail construction could begin in fall 2020.