Solano Probation's Center for Positive Change Graduates 71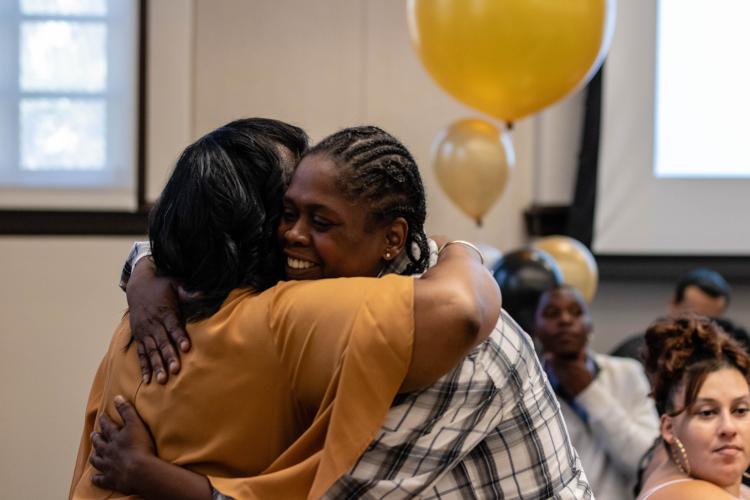 With joy and tears Tuesday, 71 people described as "high-risk offenders" were honored for completing a rigorous program slated to help make their transition back into the community successful.
Gathered in the Solano County Events Center in Fairfield, the students of the Center for Positive Change, run by the county's probation department, happily acknowledged an audience full of loved ones as they received their certificates from the program's 2018 completion ceremony.
Some shared their stories, others celebrated in silence as they pondered the bright future ahead.
Everywhere were mementos of support, including framed quotes of encouragement including "You got this," "I have the power to change my story" and "One step at a time."
"None of us can go back and start over," advised Solano County Chief Probation Officer Chris Hansen. "What you do today matters."
Solano County Superior Court Judge Dan Healy spoke of how tough the program was, as it made participants really take a hard look at themselves and effect change.
It's hard, he said, but there is light at the end of the tunnel.
"This works," he emphasized. "I have seen that."
If you have an open mind, are willing to do some deep reflection, are ready to change and take accountability, he continued, this could be for you.
"You have given yourself a new opportunity," the judge said. "And you are probably the biggest beneficiary of what you've done. … You are blazing the trail for everyone behind you."
Participant Robert Arleth agreed.
Drugs, he said, derailed his life. He lost his wife, son and job to drugs in 1979. He moved around, remarried and six years later lost that wife and job when he relapsed.
He rebuilt his life once more and relapsed once more.
"Today I stand before you a success," he said, at 17 months sober.
He's since been hired at the Center for Positive Change as a peer facilitator and he expressed excitement with the position.
"I'm gonna be alright," he said. "I'm gonna make good choices. … With God, all things are possible."
Participant George Bighorse spoke of being raised by his dad and being around alcohol at a very young age.
By fifth grade, he was an alcoholic, he said, and was using marijuana.
Bighorse later spent time in prison before aiming to turn his life around. But then he relapsed, and again sought help.
Today, he is nine months clean and sober.
"If you want it, you can do it," he said.
The event concluded with the awarding of certificates and refreshments.