ICYMI: Prom wear campaign fills need in Pajaro Valley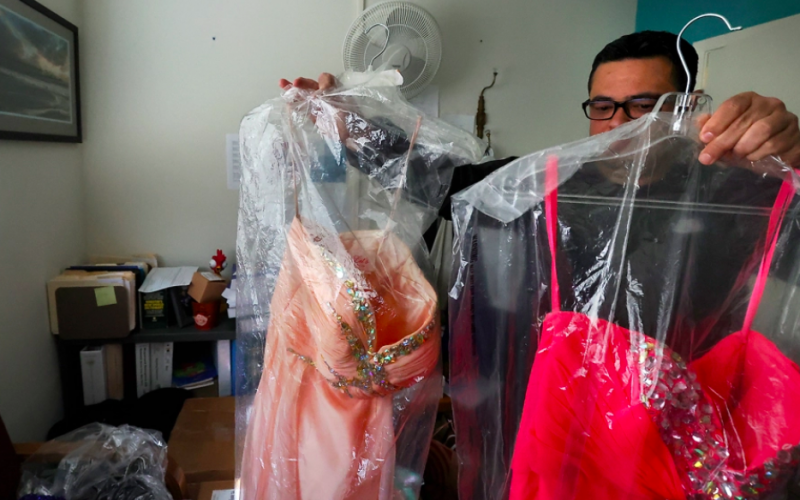 By Jessica A. York in Santa Cruz Sentinel
The Santa Cruz County juvenile probation officer lives less than 2 miles from where recent storms and the March 11 Pajaro River levee breach caused widespread devastation in the Pajaro region. Despite volunteering for disaster relief efforts, Castaneda said it was not until she dropped her daughter off at high school one morning and saw a reminder of the swiftly approaching prom that she thought of a more personal way to be of service.
"So, for me, I'm going to get choked up right now, the devastation that the community has been going through has been just heartbreaking," Castaneda said by phone from England this week, where she was coaching young soccer talent through the Olympic Development Program. "I'm like, how are people even going to go to prom when we're in the middle of a disaster. (Prom is) already expensive, it already puts family out of a lot of money that they don't have and now we have all these families … in the ag industry, whether they work in the fields or in the big companies' warehouses and coolers, they're not working."
And so was born the prom dress and suit collection/giveaway, with collection efforts running through April 15.
Realizing time was short before prom season, Castaneda formed a committee of friends and professional peers, along with a local Comerica Bank representative who had experience in past prom dress drives. Esteban Calderon, Comerica Bank's district manager and vice president for the region, said a similar drive had not been done locally in recent years, but had always received good community support in the past. When Castaneda approached bank officials originally, they were concerned that there would not be enough time to put the effort together — but were swiftly proven wrong as donations bloomed to double-digits, even at an unofficial drop-off site in San Jose, Calderon said.
Before leaving for Europe last week, Castaneda said she already had secured 40 new donated dresses, plus several business owners offering giveaways of their services. The organizing group, she said, already has committed to doing a larger prom drive next year, but is opting to focus on students attending Pajaro Valley, Watsonville and Aptos high schools this year and has a goal of collecting 300-400 suits and dresses, Castaneda said.
"Originally, I didn't have a goal. But as I put it out on social media, teachers started to contact me immediately and tell me that they had students. They were telling their students, hey, you can still buy tickets, there's still an opportunity to do this. Don't give up," Castaneda said. "One teacher called me and she was like, I have 50 girls that need help."
The prom collection has drop boxes around the county, including in her own Probation office, plus those of the Santa Cruz County District Attorney's and Public Defender's offices. And those sites are not just accepting donations — Castaneda and her crew asked professionals in those offices to dig into their own closets for donations, she said.