Marin probationers recognized in 'Wall of Change' ceremony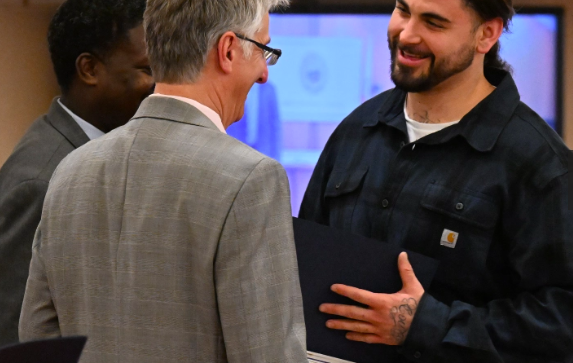 By Richard Halstead in Marin Independent Journal
The video that kicked off the event featured a candid conversation between Deann Marie Ashley, and her parole officer, Jose Barajas.
During the exchange, Ashley said, "I suffer from depression. I lost my children in a house fire."
Second chances and withholding judgment were the themes as Ashley and 12 other Marin probationers were recognized for their outstanding recoveries during the Marin County Probation Department's annual "Wall of Change" ceremony Wednesday at the Civic Center.
In a statement for public posting on the Wall of Change, a display in the probation department's reception area, Ashley wrote, "During the pandemic, I felt alone and isolated. I began to drink occasionally before it turned into a daily routine. It caused a strain in my personal life and relationship. I was angry and not myself. As a result of my action, I was arrested and placed on probation."
As part of her rehabilitation, Ashley attended a batterer's treatment program, a course that "was more helpful than I could have imagined," she wrote on the wall. "This experience has opened my eyes and feelings about the justice system."
Terry Wright, director of the probation department's adult division, said Ashley's story is a reminder to consider people's histories and circumstances before condemning them.
"I'm talking about society putting a label on people who find their way into the system," Wright said. "It's just not fair."
"If I went through the same kind of things that she and some of her peers here today have gone through," Wright said, "I can't say I'd be able to pull myself out of that."
The probation department oversees about 700 people on probation with 42 probation officers. It has an annual budget of $25.2 million.
Many of this year's other honorees also survived traumatic events. Like Ashley, they all wrote short narratives that were posted on the wall.
James Mayberry wrote, "When I was little, I lived in Oakland with my mom and dad until one night where my life was turned upside down and changed forever. I was only 11 years old when my mom was taken from my siblings and me by the hands of my own father. I guess you could say that is where my struggles all began."
Abdalla Khaled Sayed, who also uses the name Jimmy, wrote, "My story sounds not too different from the ones you hear of about — rough childhoods, with drug use, abuse, tough family life, gangs, a life of crime and toxic relationships."
Matthew McCarthy wrote that his scrapes with the law have involved impaired driving violations, grand theft auto, escape from jail, battery, criminal threats and possession of narcotics.
He wrote, "Contrary to what my criminal record looks like, I am not a bad guy. I have struggled with mental conditions which I believe I was born with. Luckily, the courts recognized and have given me multiple opportunities to self-correct my behavior."
Through Marin's STAR Court, a court-supervised program for defendants who have serious mental illnesses, McCarthy got the help he needed.
"The support was immensely helpful," McCarthy wrote. "I am happy to announce I have been sober for over two years, work at a nonprofit organization as a counselor, and am finishing my bachelor's degree at Sonoma State University. The fact of the matter is this — when I am sober, medicated, and working on myself, I stay out of handcuffs and live a productive life."
Like McCarthy, the two honorees who spoke at Wednesday's ceremony highlighted the powerful effects that second chances made in their lives. Fletcher Pinkman said his second chance came as a result of being granted probation.
"It was a blessing in disguise," said Pinkman, who credited Alcoholics Anonymous meetings with helping to change his life.
"Alcohol had cost me so many jobs, relationships, friendships, opportunities and freedom over the years, yet still, I just couldn't quit drinking," Pinkman wrote on the wall.
Samuel Lawrence said he required more than one second chance to turn his life around.
"I'm talking fourth, fifth and sixth chances," said Lawrence, who spent nearly a decade on probation for a range of offenses committed to support his addiction to crack cocaine and heroin.
"As the years passed, my addiction got worse and so did the consequences that came with my behaviors," said Lawrence, who grew up in Ross.
"Jail and treatment centers became a regular occurrence for me," he said. "My life became so small. I had no self-worth. Guilt and shame overwhelmed me. I wanted something better. I just felt it was unachievable."
Lawrence said the turning point for him came when he had to face Marin Superior Court Judge Paul Haakenson after Haakenson sent him to Olympia House in Petaluma for rehabilitation and he relapsed yet again.
Lawrence recalled Haakenson warning him when he sent him to Olympia House: "If you ever come back in my courtroom, you're going to go to prison."
"That day in court was probably the scariest day of my life," Lawrence said. "I was about to spend a long time behind bars, and I had no one to blame but myself."
But instead of consigning Lawrence to prison, Haakenson sent him to the Jericho Project, a men's recovery program in Brisbane that specializes in the treatment of chemically dependent criminal behavior. Lawrence successfully completed the program a year later.
"At the Jericho Project I learned about discipline, honesty, accountability and respect," Lawrence said, "all things I'd been lacking in my life.
Lawrence said he has since rebuilt his relationships with his family and friends, and started a family of his own. His partner and 7-month-old son were in the audience Wednesday.
"It's an amazing feeling," Lawrence said, "to know that I can be relied upon today and trusted."