New Multi-Sensory Room "The Reef" in San Mateo County Youth Services Center-Juvenile Hall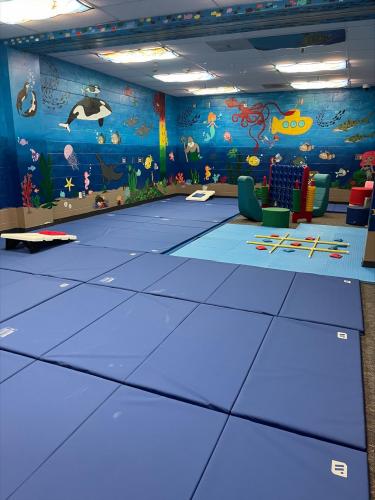 On November 9th, the San Mateo County Probation Department unveiled "The Reef," a multisensory de-escalation room for youth in the Youth Services Center-Juvenile Hall. The Reef is a sprawling ocean-reef mural filled with calming deep blues and turquoise all created by youth and staff as part of Probation's art therapy program.
In April 2021, Probation partnered with the San Mateo County Sheriff's Activities League to lead a youth mural project at the YSC-JH. Designed around an under-the-sea theme, the mural covers all four walls of the facility's newly established multi-sensory de-escalation room, which is meant to provide a safe, trauma-informed space allowing residents to calm down and regulate their feelings.
In addition, youth also worked on a mural in the hallway leading to The Reef with a theme of "sunset above the water in The Bay." With different hues of orange, this mural depicts a golden sunset above the Golden Gate Bridge as youth and staff make their way to The Reef's underwater adventure.