Probation Department earns multiple awards for innovative public service programs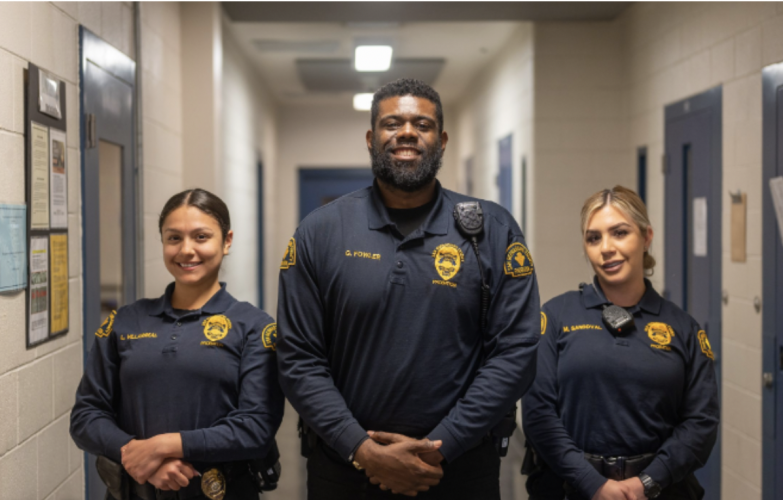 In 2023, the San Bernardino County Probation Department earned seven distinguished National Association of Counties (NACo) awards for partnering with local law enforcement agencies to deliver quality public service to the communities they serve.

The Probation Department received an award for its revolutionary Pre-Trial Program, a partnership pilot program with the Superior Court of California that promotes the safe, efficient, fair and timely pretrial release of individuals in custody. Having launched mid-year in 2022, more than 300 individuals have benefited from this groundbreaking program, saving the taxpayers of the county over $3 million dollars in a 90-day period.
The Pre-Trial Program is a wonderful example of the creative leadership in the San Bernardino County Probation Department. It provides opportunities for those in custody awaiting trial on non-serious, non-violent crimes to be released into the community and monitored by the department. Apart from this program, they may not otherwise have this opportunity.
The Probation Department also garnered an award for its Community Action Response Engagement (CARE) Officer program, in which probation officers are assigned to local law enforcement (LE) agencies to assist county partners and community-based organizations in the collective effort of providing services and resources to the county's homeless and other vulnerable populations.
Additionally, the Probation Department was honored to receive an award for its Juvenile Services Intervention Supervisor Program. Prior to 2021, a high number of youths were being placed on probation for firearms related charges in San Bernardino County's central area. In collaboration with other county agencies, the Probation Department has been able to utilize a wrap-around approach to mitigate risk to public safety and create a pathway to success for those enrolled in the program. Over the past year, 18 youth have completed probation, four of which have earned the ability to be taken off probation early, with an additional four youth stabilized and referred to other specialized supervision programs.
The fifth award received by the Probation Department focuses on the Transportation Unit's responsibility to safely move high numbers of youth and young adults to their respective rehabilitative locations, which requires an enormous level of logistical management, dedication and skill.
The Transportation unit is a critical component of the Probation Department's reduction of recidivism among youth and young adults, as they connect clients with vital resources, including the most challenging clients suffering from mental illness or the medically fragile. By allowing youth and young adults previously housed at regional centers to be closer to their families and communities, the San Bernardino County Probation Department is ensuring that local youth and young adults are connected to the resources they need to thrive.
Finally, the Probation Department has been recognized for their Extended Education and Vocational Program at ARISE Secure Youth Treatment Facility (SYTF), which provides educational opportunities to incarcerated youth with an aim of helping them continue their education beyond high school.
"This program provides incarcerated youth with a unique opportunity to enhance their career prospects and develop important skills, such as critical thinking, problem-solving and communication," said Chief Probation Officer Tracy Reece. "These individuals are often from disadvantaged backgrounds and face significant constraints on educational opportunities. By breaking down the barriers to education and providing individualized support, the program aims to help youth in custody escape the cycle of recidivism and achieve success in higher education and beyond."