Probation hosts resilient re-entry event in Clearlake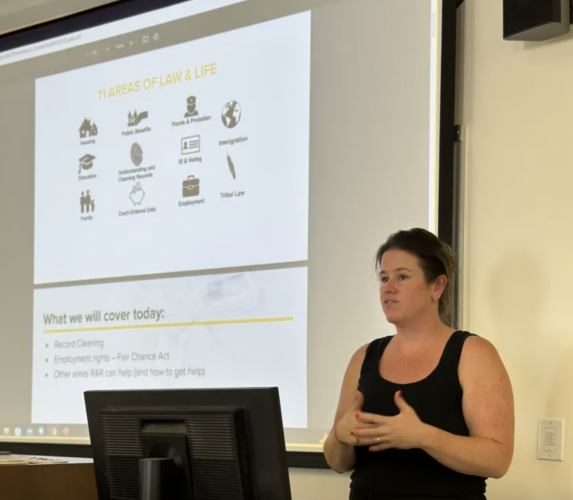 In Lake County Record-Bee by Nikki Carboni
The Lake County Probation Department hosted a Resilient Re-entry event offering resources and guidance to justice-involved individuals in collaboration with the Lake County Campus of Woodland Community College in Clearlake on Friday. The event was held from 9 a.m. to 2 p.m. and included a panel of speakers who discussed record expungement and information on college education opportunities, and also offered free tattoo removal services on site.
Several of the guest speakers had also been involved in the criminal system themselves at some point, sharing their stories of going from prison to post secondary education. Speaker Caressa Smith, the manager of the Hope Center and an advocate for second chances detailed her upbringing in a home full of generational trauma actively being passed down and the adverse effects it had on her mental health. Struggling with homelessness and drug addiction at an early age, Smith expressed her gratitude for members of the Probation Department for their role in saving her life. She noted:
"The most powerful capital you can have is not money, it's social capital."
With the help of campus staff Smith took advantage of every program she was eligible for and even participated in the Second Chance Club which helps those formerly incarcerated transition into a successful college career.
Another such program is the Underground Scholars program, presented by the inaugural Woodland Community Campus Ambassadors Dustin Lawson and Alex Casias, both current students at the college. They were chosen as the first paid position ambassadors for the Lake County Campus as part of a network of individuals across all of the UC establishments in the state. Casias shared his history which he called "a long road." He said, "I really did give it all I got and now I am in this ambassador program." The Underground Scholars began in Berkeley as a student initiative in 2013 with a goal of increasing access to higher education for formerly incarcerated students and their families.
They provide a multitude of services like tutoring, academic and financial advising, mentoring and student employment. They also advocate for the betterment of education for those currently or formerly incarcerated and their families by engaging in local, state, and federal policy to remove barriers and create opportunities.
Guest Speaker and attorney for the Oakland based non-profit Root and Rebound Jessica Hallett shared an overview of the available options one has for expungement and record cleaning, which could help felons obtain better jobs or housing. Though every individual case is unique, Hallett was able to explain the differences in record cleaning versus expungement as well as the types of background checks and how it will affect what an inquiring party sees on their record.
Other speakers included Randall Cole, an accomplished author and substance abuse counselor; Jennifer Nauert, a substance abuse disorder counselor who holds a master's from Cal Poly Humboldt; and Elizabeth Quiroz, a distinguished author, co-founder of the Redemption House. She holds a master's in Social Justice and Human Rights from Arizona State University.