At Probation's Youth Services Center, a 'safe space' to turn lives around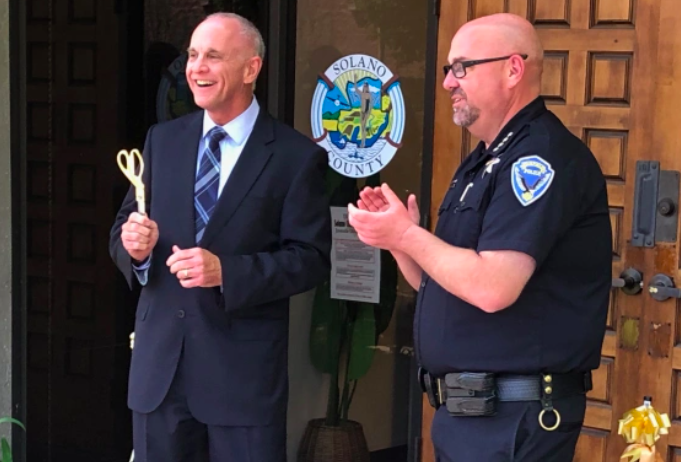 The Vacaville Reporter by Richard Bammer
Part of the Solano County Probation Department, the center, offering a variety of programs and services, from substance abuse and mental health services to education and resume-writing and interviewing skills, creates "a safe space that assists the youths in finding their strength — and so much more," Nadia Holloman, a supervising deputy probation officer, said during a tour of the facility.
Relocated from the old Sullivan School campus in late December, the 6,200-square foot center, near the Juvenile Detention Facility, began to take shape in the winter months and now includes a reception area, several offices, interview rooms, larger conference rooms, a youth lounge area, a music studio, a computer lab for homework assistance and job searches, and a room for drug testing.
Some 40 juveniles can be served at one time, depending on the timing of groups, classes, individual appointments, interviews, assessments, or "youth hanging out in the lounge area," he said, adding that there are slightly more than 130 youths "on active probation supervision."
Dean Farrah, a division chief with the Probation Department, noted the music room, aka Creative Hope Studios, outfitted with keyboard, a computer terminal and speakers — and studio rules, among them "respect," "no profanity," "show love" and "be creative," posted on artfully painted walls — was funded by a "generous" donation from the Yocha Dehe Wintun Nation.
Seated in front of the keyboard, Luke Pilalas, an office assistant at the center, showed off the technology to a couple of visitors.
Nadia Hollomon, supervising deputy probation officer for Solano County, shows off a small conference room in Probation Department's newly relocated Youth Services Center, which she described as "a safe space for assisting youths in finding their strengths — and so much more." (Reporter photo/ Richard Bammer)
In his prepared statement, Hansen said that the youths on probation report for regular check-ins with their assigned probation officers, as ordered by the court, to receive programs and services, attend special events, "or just hang out before or after programs or appointments."
The juveniles, he added, are referred to the Probation Department for a wide variety of offenses, and the services they receive "are based off many factors, including criminal history, risk to re-offend and assessed needs."
Additionally, he said, center staff members "work to remove the barriers that can get in the way" of youths receiving services, problems such as transportation and basic supplies.
Center expenses, noted Hansen, are shared among multiple budgets. The building, staffing and services are funded primarily by a combination of Juvenile Justice Crime Prevention Act and Youth Offender Block grant programs through the state of California, with some supervisory positions funded through the general fund.
Hollomon, who is assigned to the Youth Achievement Center with the center, oversees the center's day-to-day operations with Supervising Probation Officer Nilsa Thomas, who is assigned to Juvenile Supervision. Additional Program oversight is provided by Social Services Manager Katie Ward and Probation Services Manager Jennifer Washington. They are among the center's 12 employees.
At the brief and somewhat casual ribbon-cutting on Thursday, a smiling Hansen, small gold scissors in hand, called the center "a safe place for kids," a place to "keep them off the streets," a building and a set of offices "that came together with a lot of hard work."
In written response to a final question Friday, Hansen acknowledged that Solano County youths who enter the state's criminal justice system have problems that range "from trauma to dysfunctional families and relationships and are just trying to survive life."