San Mateo County Pathways Mental Health Treatment Court
Pathways Mental Health Treatment Court
The Pathways Mental Health Treatment Court Program is a partnership of San Mateo County Courts, the Probation Department, the District Attorney's Office, the Private Defender Program, the Sheriff's Department, Correctional Health, and the Behavioral Health and Recovery Services Division. The Pathways Program serves seriously mentally ill, nonviolent offenders with co‐occurring mental health and substance use/abuse. The goal of the Pathways Program is to avoid incarceration for individuals with severe mental illness and help them to live more successfully in the community. Defendants who are eligible are admitted after they enter a guilty or no contest plea, but prior to sentencing on their charges.

Pathways Client Success Story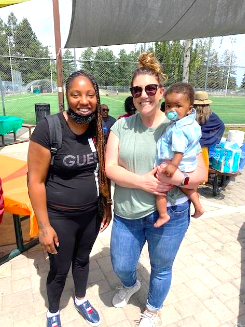 One Pathways client, Bertha G., shared her story after the picnic. Her journey illustrates how our collaborative court programs make a difference in the lives of clients. "Before Pathways, my life was all over the place. I was up and down and not doing good or in a stable headspace. I was moving from place to place in Southern California and was not in good relationships. I came to San Mateo County and got arrested. I went to jail for eight months and then I got out and went to Maple Street shelter. Three months later, I found out I was pregnant and decided to keep the baby. I went to treatment at Hope House for seven months and had my baby there. After Hope House, Baby I.G. and I moved into First Step for Families shelter. We lived there for six months before I got a lifetime housing voucher and we moved into our own apartment.
"Since I got out of jail, I have been in Pathways. Pathways helped get me into stable housing and doing things by the book. Going to groups and meetings helps me stay on track and helps me have good communication with my peers. I plan to continue with Pathways and letting the program help me with my journey in life." – Bertha G.