CPOC Hope Navigator Training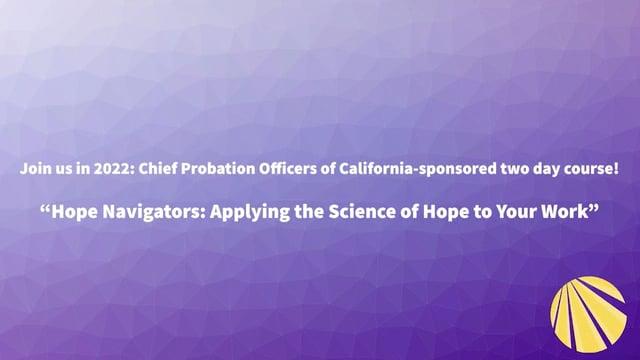 Hope Navigator Course: At a Glance
The Hope Navigator Course is an in-depth "train-the-trainer" training that builds the capacity to train, provide leadership and support with finding, enhancing, and modeling hope-centered initiatives. Hope Navigators are empowered to develop and implement hope-centered initiatives to improve the wellbeing and goal attainment of targeted populations. This program develops expertise within a team of participants to champion and "navigate" the Science and Power of Hope Training advances to high impact when an organization has the expertise to sustain the hope-centered practice beyond a training event.
Instructors:
Chan M. Hellman is a professor of social work at the University of Oklahoma and Director of The Hope Research Center. Chan's research is focused on hope as a psychological strength helping children and adults overcome trauma and adversity.

Dr. Angela Pharris's professional practice includes work in child welfare training and mental health. Dr. Pharris's research is focused on policy implementation, specifically state strategies for policy implementation in child welfare.

Casey Gwinn is the President and Co-Founder of the Alliance. He is the visionary behind the Family Justice Center Movement, first proposing the concept of the Family Justice Center model in 1989. Casey founded Camp HOPE America in 2003.
You can access the course on HOPEhub here. Use registration code CPOC-HOPETRAINING-2022​ when enrolling in the HOPEhub Online Learning Academy. Access the course from 'Online Learning'. The course should be visible under 'Your Courses' in Online Learning account page, if the code was entered properly in the Auto-Enrollment Form.
COST: There is NO cost to attend this training on HOPEhub.
Open the HOPEhub Enrollment Guide for detailed instructions on registering your account, enrollment in the Hope Navigator Training, and access to many more resources from the Alliance for HOPE International.