Asian Pacific American Heritage Month Highlight
San Diego County Probation's Interim Chief Probation Officer Cesar Escuro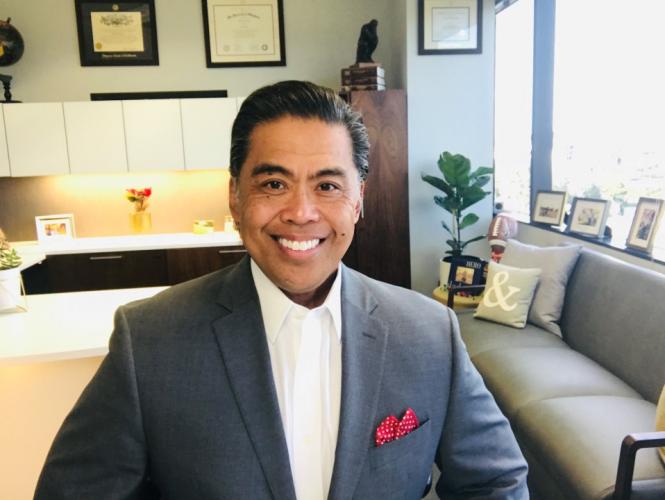 "I stand on the shoulders of people who helped me along the way."
That's Cesar Escuro, San Diego County's top probation official.
And those shoulders he's referring to? They belong to his parents, two hardworking Filipinos who, along with Mr. Escuro's colleagues and friends, helped to guide him on his life journey.
And what a journey it has been: from immigrating to the U.S. with his family, as a young child; to growing up in National City and attending law school in Oklahoma; to serving 25-plus years as a probation officer, including his newest stint as temporary head of the San Diego County Probation Department.
Back to those shoulders. They must been pretty massive, because they supported not only Mr. Escuro but also a younger sister, now a doctor in Carlsbad, and a brother, an aerospace engineer. Hello, American Dream! I look at him via Zoom, smiling. "Your parents did something right. Can we agree on that?"
He nods, revealing a bright, wide smile that gives the chief a remarkably youthful appearance to go with his humble demeanor. "I'm the oldest, so I've got all the pressure," he quips.
Mr. Escuro takes a moment to reflect. Both of his parents, he recalls, had a tremendous work ethic and sacrificed so much so their children could have the opportunities they have had. Originally from Luzon, the largest and most populous island in the Philippines, his family immigrated to the U.S. when Mr. Escuro was five years old, settling in National City, where he and his siblings were raised and his mother still lives.
She worked long hours over many years to help support the family; meanwhile, Mr. Escuro's father, who was in the Navy, made his own sacrifices. "My dad knew," he says, "that when his children started to get into high school, he needed to be around." His father's commitment to his family was so strong that he retired early "so he could be home to help guide us."
Cesar Escuro's journey includes completing his bachelor's degree in criminal justice at San Diego State University and, some years later, receiving his law degree from – of all places – the University of Oklahoma College of Law. "I was one of only two Filipinos in the entire graduate school," he recalls, "and they welcomed me with open arms."
In January, after spending more than 25 years as a probation officer, Mr. Escuro was appointed as Interim Chief Probation Officer for San Diego County, which involves overseeing 1,000 probation staff, of which roughly 800 are sworn peace officers. He will continue to serve in that role until a new chief is found.
Some people have a misconception about the role of probation officers, he says. They think that their job description is simply to meet with people released from prison to ensure they are complying with the conditions of their probation.
And while that's true, Mr. Escuro says probation officers actually spend more time supporting, guiding, and re-integrating them into society.
"We are an agency that helps to link our clients to services, so they can get the necessary treatment for whatever they need," he says. Typically this includes assistance with housing, employment, and education, as well as treatment for mental illness and substance abuse.
Mr. Escuro has been championing the "balanced approach" philosophy for the past ten years. His belief is that many clients could be reintegrated into the community if there were a support system and structure in place to help them succeed during their transition.
In 2011, he brought this idea to life, leading the Probation Department in developing a balanced-approach model that focused on treatment, accountability, and community safety. Mr. Escuro's leadership and advocacy of San Diego County's balanced-approach model helped to establish it as a model program that would later be replicated by other regions.
Learn more about Cesar Escuro and the San Diego County Probation Department.
By Adam Behar
Editor's Note: This article first appeared in The Filipino Press.