Butte County is a state leader on breaking imprisonment cycle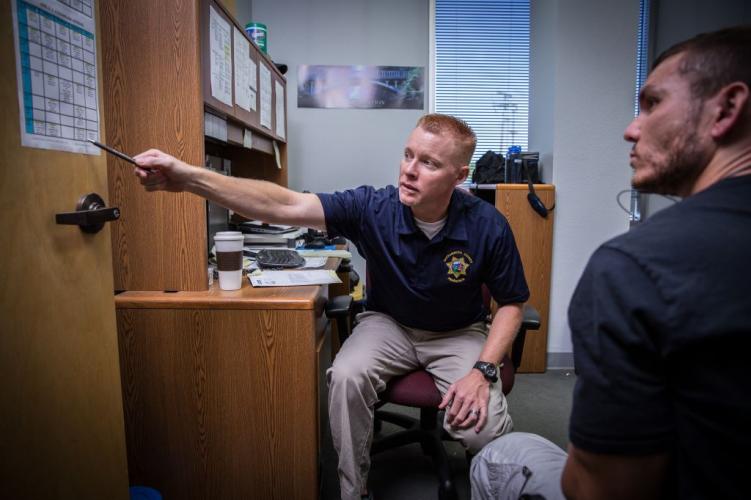 From The Chico Enterprise Record
Seventy-six miles from the nearest state prison, inmates are serving their sentences under entirely different terms.
Here, there are no cells. There is no barbed wire. They are free to go outside whenever they want, within the confines of an ankle bracelet.
The pale pink housing facility on Oro Dam Boulevard East is where participants of Butte County's three-year-old male re-entry program reside and receive services. The program, which is the only of its kind in the state, offers felony offenders the chance to serve up to one year of their sentence in a treatment facility as opposed to prison. Though there are private institutions that receive state funding, Butte is the only county that partners with the state Department of Corrections and Rehabilitation for this type of program.
Steve Bordin, Butte County's chief probation officer, said it makes a huge difference to not operate as a business.
"We don't want to just keep the beds full," Bordin said. "We want to process these guys and behaviorally change them so they come back as productive citizens. That's what we're doing and we've been extremely successful so far."
Since the inception of the voluntary program three years ago, 83 have graduated and two have since returned to prison.
That is an incredible statistic compared with the most recent state data, which shows a recidivism rate — return of an inmate to prison within three years of release — at 46 percent.
"The staff is vested in the community," Bordin said. "We care deeply about the success of these guys."
Butte County is currently in the process of renewing its contract with the state for another three years.
Inmates who are residents of Butte and surrounding counties can be accepted into the 40-bed capacity program, which currently has a wait list. Sex offenders and those with a high violence risk assessment score or prior escape charges are not considered.
Once released, graduates go back to their counties of origin.
Inmates can complete the remainder of their sentence in the in-custody program from 30 days up to a year, said Mike Rogers, a supervising probation officer for Butte County.
"We typically like to get them around 6-8 months prior to their parole date so they have time to complete the in-house programming," he said.
Staff provide inmates with things like job training, anger management, developing life skills and substance abuse treatment. The county and state partner with Tri County Treatment and there is a counselor on site 24-7.
"Moral recognition therapy is one of the bigger courses, basically teaching them right from wrong, looking at what got them into prison," Rogers said.
Those unaware of the program have likely driven right past the building where the inmates are housed at 2740 Oro Dam Blvd. East. Some men might be out in the parking lot for a smoke or gathered around listening to music, and there is a sign, but the building doesn't exactly scream "inmates live here."
Inside, it feels almost like a dorm, with bedrooms and offices facing each other down two long hallways. Rooms for residents have two or three beds, dressers, closets and their own bathrooms — another stark reminder of how different it must be for the guys to sleep here, rather than in prison quarters.
There is also a classroom, a bright green and purple computer room ("It's what they wanted," Rogers shrugs) and a dining room, where on Monday, nachos were being offered for lunch.
Bordin said that the idea is to gradually introduce more freedom. Eventually, staff will help inmates with things like signing up for college, taking the bus and setting up a bank account. No one has ever tried to escape from the ungated facility, he said.
"You have to understand, people there are working," Bordin said. "Almost all of them exit the program with a job. This is a reintegration to society program, so when they leave, they have almost every possible support we can provide them to be successful."
Rogers said another point of pride is that no one leaves without a destination. Staff find inmates stable housing or place them in treatment facilities.
"Nobody paroles to the street," he said. "We're working on getting them on SSI or SSD if they're disabled or we help them get them jobs."
Staff witness inmates' personalities change as they progress through the program.
"Since I was a rookie 20 years ago, I've been seeing the same guys coming around," Rogers said. "We're trying to break that cycle, so they stop coming back to us and actually do well in the community. It's really fun to see that."
Life out of the cycle
Bryce Barden, 28, of Oroville, was an inmate in the program from June 2017 to February of this year. Before that, he spent about three years in High Desert State Prison. He had been in jail before but it was his first time in prison.
Barden said those nine months in the program turned his life around. After attending Butte College for a year in 2009, he got off track. He started using drugs then selling drugs as an easy way to make money — which got him in prison.
Barden decided to apply for the program because he wanted to try to change and knew that he couldn't do it on his own.
When asked about the difference between being in transitional housing as opposed to prison, he laughed. He remembers four riots taking place when he served time at High Desert State Prison in Susanville.
"I went from a 6-by-10 (foot) cell, always on lockdown, always nervous," Barden said. "At High Desert, we had a lot of problems with riots. We didn't get too much movement outside of the cell. You go to day room for a couple hours, you get to go to yard for a couple hours. That all gets taken away when something happens. Then you sit in your cell 24/7 and come out twice a week for showers."
He said he was in survival mode before getting to the housing facility in Oroville.
"Then they uncuff the ankle shackles, waist chains, chains on your wrist," Barden said. "All of a sudden, they take that off and then they're like, 'here you go.' All of a sudden, you're not being told what to do."
That freedom felt good. But what was maybe more impactful was the staff, who were caring — not cruel, like correctional officers at the prison.
"You don't want to communicate with them," he said. "You try to avoid them at all cost. But here, the guys are like how are you doing? Are you all right? If anything's off, they're on it. At first, it was difficult. But after awhile, (with one officer) we'd be in the office talking for hours."
Through the program, he landed the job he has now, with Graphic Packaging International, starting out as a temp.
"I'm super thankful for the opportunity," Barden said. "I've been out for three months and I've got a little place for me and my mom. I've got a car. I've got a good job making $18 an hour."
If not for the program, he probably would have gone back to selling drugs, he said.
"If I got out without help, I probably wouldn't have what I've got right now," Barden said. "The program helps you think about what (else) you can do. I (didn't) ask for help, but now I do, because of the program."
He said he is much more open now than he used to be. He is OK with talking about the depression he deals with and his past. Barden has come to the transitional housing facility to talk with current inmates about what his life is like now and still sometimes calls a counselor there when he needs support. He has grown closer to family, especially his mother.
"My mom says I'm pretty different now, but in a good way," he said.
Youth program
The county's Transitional Age Youth diversion program gives young people age 18-21 who have committed their first felony an opportunity to get the conviction expunged from their record. Butte is one of five counties in the state with this type of diversion program.
It mirrors the male re-entry program in many ways. Youth are offered counseling services and offered job training or help in continuing with an education. The same restrictions for entry apply.
Participants in the year-long program also live together in a facility. It is located within juvenile hall but is separated so that the inmates have no interaction with the minors in juvenile hall.
Bordin said that Butte County was further along in development because it helped write the legislation that allowed the five counties to pilot the program. One mistake shouldn't affect young people, whose brains — and particularly the ability to understand the consequences of their actions — are not fully developed, he said.
"What's going to happen to a young person in (prison)?" he asked. "They're going to become indoctrinated. They're going to become infected with this culture."
The county moved around its resources to operate the new program, which saw its first graduate about one month ago. While expensive upfront, it can save money in the long term and change lives, Bordin said.
"If you keep this person out of the system, which is where they would normally be, churning in the system for years to come, you've probably saved a million dollars on this one person," he said. "By diverting them out of that system, I can't even express how dramatically that will change their lives. They're not going to be the same human being, coming out of a prison."