California Probation Chiefs Elect New President and Executive Officers for 2022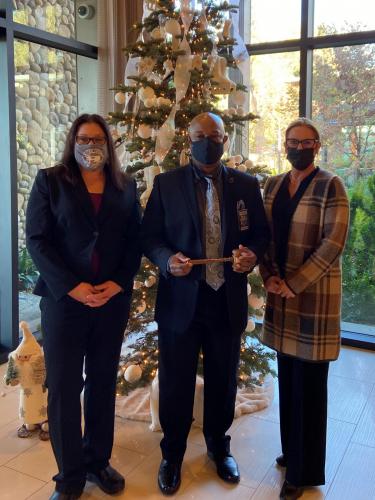 SACRAMENTO, Calif. – December 13, 2021 – The Chief Probation Officers of California (CPOC) announced the election of its 2022 executive officers: President Chief John Keene (San Mateo County), Vice President Chief Jennifer Branning (Lassen County), and Secretary/Treasurer Chief Kelly Vernon (Kings County).
"I am honored for the opportunity to lead an organization dedicated to keeping our communities safe by transforming the lives of people in our justice system," said San Mateo County Chief John Keene, newly elected President of the Chief Probation Officers of California. "Probation plays a central role in the justice system and is a connector between the people we serve and the rehabilitative services that help them transform their lives. CPOC is central to these efforts, helping to move California toward a common-sense public safety system driven by data, research and evidence that holds justice-involved people accountable while creating opportunities for them to thrive and build positive ties to their communities."
"I would also like to thank Orange County Chief Steven Sentman for his leadership over the past year as the CPOC president especially during the pandemic," added Chief Keene. "We appreciate his time and dedication leading the organization and keeping its focus on our mission of public safety and transforming lives."
Chief Keene was appointed Chief Probation Officer in June of 2013. He brings more than 20 years of law enforcement experience to his role. Prior to his appointment he served as Deputy Chief Probation Officer in Alameda County. Chief Keene earned his Juris Doctorate from Southern University Law Center. He earned his Bachelor of Science in Political Science from Southern University in Baton Rouge, Louisiana.
"CPOC is in extraordinarily good hands with Chief Keene as president," said Chief Steven Sentman, immediate past President of the Chief Probation Officers of California. "Chief Keene is committed to community safety and proven restorative and rehabilitative supports for those in our justice-system that change lives for the better. His experience and perspective will benefit CPOC as the state grapples with the best policies to keep the public safe while ensuring individuals receive the proven supports and accountability they need to change."
The Chief Probation Officers of California (CPOC), is an association of all 58 counties with a shared identity as law enforcement leaders. CPOC is committed to a research-based approach to public safety that promotes positive behavior change. Their leadership guides policy and practice in the areas of prevention, community-based corrections, secure detention for youth and direct human services. CPOC's goal is to prevent crime and delinquency, reduce recidivism, restore victims and promote healthy families and communities.
For more information about CPOC, visit www.cpoc.org or follow us on twitter @CPOC_Probation
Media Contact: Laura Dixon laura@cpoc.org 510-384-3020
# # #