Girls in Detention Find Encouragement Through Running Club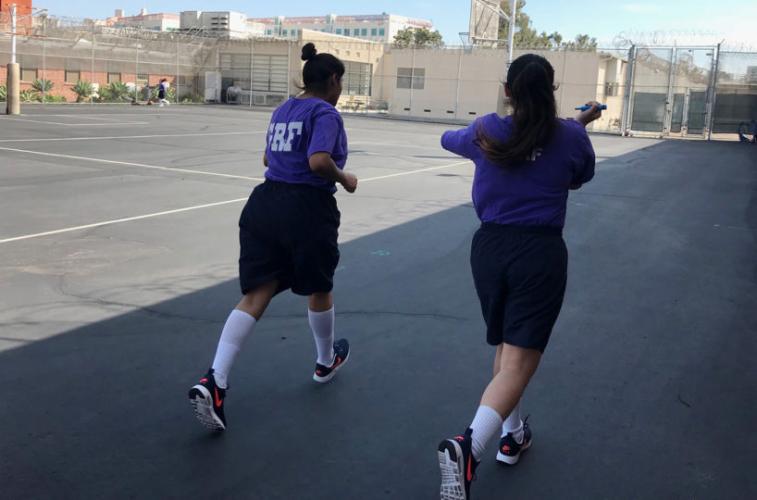 From County News Center
Ten teenage girls wearing matching purple T-shirts and Nike sneakers run around and around a small interior recreational yard, marking their hands with a highlighter pen for each lap. Twenty- seven laps is a 5K – the length of the race they plan to run in this Sunday.
"You can do it, keep going," someone says when one slows to walk.
Seven of them have never run a 5K before, but they are all excited and a little nervous. The girls are in the Probation Department's Girls Rehabilitation Facility in Kearny Mesa, an in-custody program for girls who have committed low-level crimes such as theft, drug-related charges, fighting in the community or probation violations.
One of the girls, Kathren G., 17, said running has been empowering for her and has helped her shed some of her insecurities.
"We have so many barriers now that we're on probation, and we feel trapped sometimes, and I feel like running is an act of escaping. Escaping a state of mind I don't want to be in," Kathren said. "So when I run, I like to think about my family sometimes. I don't focus on the pain of running, I focus on my family."
Supervising Probation Officer Tyra Myles, who has a background as a recreational therapist, said all the staff and their teachers are strongly invested in the girls and helping them work through their issues, many of which are the result of trauma. Running is a healthy, social activity that helps the girls cope with those stressful feelings.
"Because of their trauma and because of their lives and where they've come from, they get involved in activities and behaviors that really are damaging to themselves more than to anybody else," Myles said. "Relationships are very important in rehabilitation so that's what we try to do here, form relationships with the kids and be real with them, be kind. And provide them with opportunities to grow and opportunities to expand their knowledge of the world and develop better coping skills."
Several girls said they plan to continue running after they're released because it might help them stay out of trouble.
"This program helps me not think about things that are happening out there and being sad or, like, worrying about the time here, it just keeps me busy and we have motivation to run," said Sierra V., 15. "When I run, my mind goes blank and, like, peaceful. I'm just worrying about finishing. It, like, cleanses me."
Another runner, Lorena B., 17, said, "I like it when I sweat because I used to use drugs, so I like feeling the toxins being released from my body. It makes me feel healthy and it heals your lungs throughout your exercises."
Feeling healthy and accomplishing something new also motivates 15-year-old Yesenia C. She said prior to being in custody, she did a lot of drugs and smoked a lot of cigarettes, and she didn't like running because it was tiring and it made her feel like her chest was closing up.
"Before, I could barely even run a mile, and I just ran three miles and I didn't think I could do it," Yesenia C. said with a big smile. "Now my chest doesn't close up on me. I'm able to run and keep my own pace and I actually like it. It feels good to finish something."
Their teacher, Jackie Smith West with the San Diego County Office of Education, runs with the girls during their physical education period and attends their races on her own time. Running with them has allowed her to bond with the girls on a different level than she can in the classroom.
"Our girls are so resilient they have so much going on in here and outside–and they're stepping up their game in here," she said. "Running and setting goals and accomplishing something has translated into the classroom which as a teacher I find extremely powerful. They set a goal for themselves and they accomplished it out on the track, and then when they get in the classroom, they don't give up as easily."
Myles said the girls are all at different levels as far as running. Some are really fast and some are slower but the girls are not competitive with each other and they try to motivate and encourage other runners when they're out there.
"Not all of us are close outside of the running team, but once we're out there, we know how hard it is and it really connects us all," said Hailey L., 17.
The running club program has a small budget to register students for races and buy running shoes. Several staff members accompany the runners when they participate in the community events. The next race is Sunday's Hot Chocolate 15K/5K, starting and finishing at Petco Park.
In recent years, San Diego County Probation has developed running club programs at Reflections School for students on probation, East Mesa Juvenile Detention Facility, San Diego Juvenile Detention Facility and Camp Barrett juvenile facility to help in custody youth find a physical and mental outlet for stress and to improve mood problems, anxiety and self-esteem.