Governor Brown Appoints Probation Chief Mark Varela to Board of State and Community Corrections (BSCC)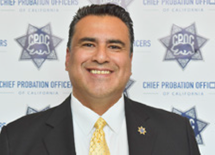 SACRAMENTO – Yesterday afternoon Governor Jerry Brown announced his appointment of Ventura County Chief Probation Officer Mark Varela to the Board of State and Community Corrections (BSCC).
"We are excited about Chief Varela's appointment and know with his experience and expertise he will be a huge asset to the board," said Chief Jim Salio, President of the Chief Probation Officers of California (CPOC). "Chief Varela is a consummate professional and his ability to listen earnestly to all sides and rely on evidence and data to drive his decision making will serve him well in this position and be of great benefit to California community corrections."
Varela's three-year term will officially begin on July 2. The Board of State and Community Corrections is an independent statutory agency that provides leadership to the adult and juvenile criminal justice systems; expertise on Public Safety Realignment issues; and offers technical assistance on a wide range of community corrections issues.
Varela started with the Ventura Probation Agency in 1988 as a Deputy Probation Officer and has risen through the ranks to become the Chief Probation Officer. Varela oversees a staff of nearly 430 personnel and his agency is responsible for the community supervision of over 9,000 adults and juveniles on probation, as well as the supervision of youth in custodial facilities. Additionally, the Ventura Probation Agency is responsible for direct investigative report services to the Ventura County Superior Court and delivery of specialized services to hundreds of individuals participating in enhanced community-based and Court partnership programs.
"I am deeply honored to receive this special appointment from the governor," said Varela. "I believe my nearly 30 years of experience in the fields of probation and corrections – at both the county and state levels – will be beneficial to the BSCC and the people of California. I'm excited to begin my term as a member of this important board and as a representative of the California probation profession."