ICYMI: Construction of new Tri-County juvenile hall has begun
By David Wilson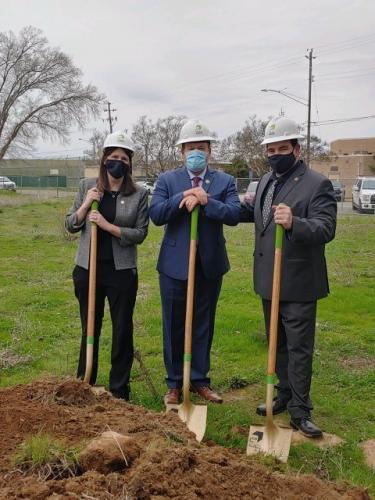 After eight years, it's finally time for a shovel to hit the ground in the construction of the Tri-County Juvenile Rehabilitation Facility. Construction began on Tuesday, according to Yuba County Director of Administrative Services Perminder Bains.
The project is estimated to be completed in July 2022 and occupied by September 2022.
The new juvenile hall will be a modern 32-bed facility that will be built at 938 14th St., Marysville, on land near the existing juvenile hall. It will be a safer, more secure, treatment-focused and homelike environment for juveniles, staff, visitors, and volunteers.
"Alongside greater family integration opportunities, a wider variety of successful evidence-based programs will now have adequate space for implementation and will better promote rehabilitation, ultimately reducing recidivism and crime in the community," Bains said in an email.
"The major roadblock we encountered was a delay in working through the state approval process," Yuba County Board of Supervisors Chairman Gary Bradford said in an email.
Bradford said he never doubted that the project would eventually become a reality despite the delays and increased costs.
"The most important part of our community is our youth," Bradford said.
"The new facility provides hope for our community as it will be much more welcoming and provide a better environment for rehabilitation for our youth."
Yuba County Probation works directly with every individual detained or committed to juvenile hall and it played a large part in the design of the new facility, according to Yuba County Probation Chief Jim Arnold.
He said the existing juvenile hall was originally a tuberculosis facility that was converted to a juvenile hall in the 1970s. Arnold described the existing facility as old, outdated and in need of great repair.
"It is not an environment that provides staff the ability to adequately manage the movement and behaviors of the youth," Arnold said in an email.
"… A new facility will provide an environment that is much more favorable to a prideful, rehabilitative and treatment atmosphere."
The improved atmosphere will provide hope to youth that pass through the facility making them better prepared to break the cycle of criminal behavior, generational cycle of poverty and poor choices, Arnold said. This will provide the community better public safety by lowering crime and having fewer adult offenders.
The probation department provides programming, life recovery opportunities, aftercare services and family resources to those it works with at juvenile hall. In addition, probation works with the Marysville Joint Unified School District and Yuba County Office of Education to provide minors a smooth transition once released from juvenile hall, according to Arnold.
"Our youth are simply the most important part of our community and a new facility places great value and belief in them," Arnold said. "When we invest in our youth, the return is everlasting and real … Sometimes our troubled youth just need a little hope and hope is a very powerful emotion that can lead to great change."
Yuba County Chief Deputy District Attorney Shiloh Sorbello has visited the existing juvenile hall many times and said it is a sterile, institutional environment, which can be counter-productive to the rehabilitative process.
"We certainly don't want juvenile hall to feel like a training ground for future jail or prison residents, which is hard to avoid when you're surrounded by metal walls, bars, and thick glass," Sorbello said in an email.
Read the full article on the Appeal-Democrat.