ICYMI: County Probation Officer Earns Statewide Honor
From Imperial Valley Press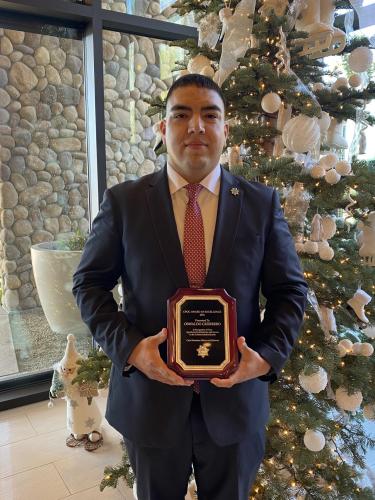 From Celeste Alvarez in the Imperial Valley Press
The diligent contributions of Imperial County Officer Oswaldo Guerrero were recently highlighted during the 2021 Annual Chief Probation Officers of California Awards Ceremony.
"I really am grateful for the efforts of the Chief Probation Officers of California and their ongoing effort to recognize individuals in the field of probation," Guerrero said, Tuesday morning. "I was really overcome with emotions when I first found out I was receiving such an important award."
Although notified of the award in mid-August, Guerrero officially received the CPOC Award of Excellence on December 9th during their annual ceremony. This specific award is presented to a probation employee who has made significant contributions that have had a statewide or far-reaching impact on probation, according to a CPOC press release.
"Their recognition and support means a lot for everyone who is nominated and acknowledged," said Officer Guerrero of El Centro. "I was extremely humbled and honored to be selected for such an important recognition as a state-wide award."
In his six years with the department, Guerrero has demonstrated a strong commitment to his work with locally incarcerated youth. His impact has helped encourage youth and their families to restore homes and preserve reunification in a healthy environment, according to the statement.
"When I was initially assigned to Wraparound [Services program], I was pleased to have been able to work in such a unit that allowed for close mentorship and support of families," Guerrero said. "Specifically, it allows us to have deeper and more involvement in youth's lives and not only help them, but also provide support to their families to make sure we are equipping them with natural support in the community to ensure their ongoing success after our involvement."
Guerrero's performance during his assignment in the Wraparound Services program has included dedicated work with high-risk clients, who were at risk of removal from the home. These youth have been diagnosed with and have experienced symptoms of depression, anxiety, suicidal tendencies, drug addiction and additional symptoms relating to mental health, according to the CPOC press release.
"Oftentimes it is easy to get distracted by an individual's actions, but what became clear to me was that we need to be cognizant of these individual's experiences, life and reasons they are displaying the symptoms," Officer Guerrero said. "Being trauma focused and providing trauma-informed care has really been instrumental in being able to provide significant enrichment to the youth at risk of removal."
To aid in stabilizing the family and preventing removal, Guerrero has been involved in scheduling Child Family Team meetings, assessing and recognizing family needs and addressing those needs with appropriate community referrals. As a result, Guerrero has made significant efforts to reduce detentions among youth out of compliance by addressing risk factors and providing ongoing interventions including increasing family involvement, creating crisis plans and identifying additional supports for youth in the community, according to the CPOC press release.
"Youth on probation usually need a support system so involving families into Child Family Team meetings and giving them their voice provides an opportunity to develop treatment goals that are aligned with their desires," said Guerrero, who also noted that this effort has "really been something that provides long term success for youth in the community."
In addition to his state-wide recognition by CPOC, Guerrero's efforts were also applauded with a proclamation from the Imperial County Board of Supervisors in recognition of his CPOC Award of Excellence during their 10:30 A.M. meeting on Tuesday morning.
"We really pride ourselves in being able to have a balanced approach in addressing the community's safety through motivating behavior change for offenders, while promoting public safety and enforcing court orders," explained Guerrero. "Really having a balanced approach is what we seek to do to make sure we maintain public safety while also providing significant services to individuals within the court's jurisdiction."
The CPOC Awards Committee evaluated submissions from probation departments from each of the 58 counties of California and selected awardees who have demonstrated exceptional leadership, commitment and passion for their work. Awardees were celebrated for their work and dedication to the transformation of adults and youth who are seeking to live healthy, productive lives outside of the justice system, according to the CPOC press release.
"We are proud to honor our highly educated and trained officers and staff who showcase a commitment to their probation clients and the safety of our communities. Their ability to connect justice-involved individuals with the resources and tools they need to succeed, combined with their ability to appropriately balance opportunity and accountability, sets members of this profession apart," said Orange County Chief Steven Sentman, President of CPOC. "This year's awardees provide hope, help and accountability needed to transform lives and create long-term safety in our communities. We appreciate all they do to deliver sustainable, common sense safety."
For Officer Guerrero, the opportunity to witness and contribute to positive outcomes in the lives of his young clients and their families continues to fuel his passion for his career within the probation department.
"Having successful termination, stabilizing a family or getting statements of hope from youth and families are all driving factors in motivating me to continue to do the work that we do as a department," he said.