ICYMI: Juvenile Hall Students Learning Construction Trade Basics
From Sacramento County Office of Education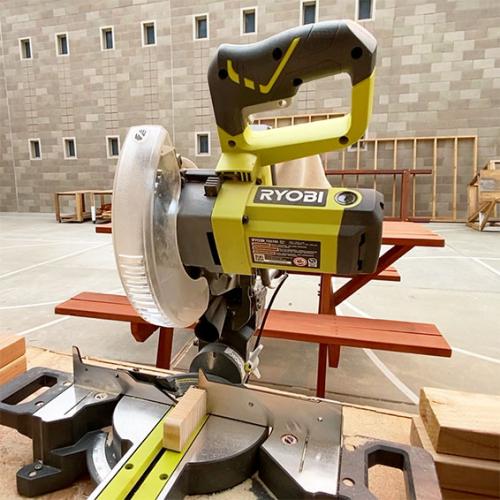 Read more and watch the video from Sacramento County Office of Education
Construction teacher Jack Maberry closely watches his students as they work to build shelves as part of a class project. His job: part instructor, part motivator.
"You know how to read the tape. You guys just did it. You aced it!" Maberry encourages loudly above the racket of hammers. A few minutes later he compliments a student who is gaining confidence using power tools. "There you go. Good job!" he shouts.
Maberry is not a conventional trades instructor working in a conventional school. He works for Northern California Construction Training (NCCT), and the students he teaches attend El Centro Jr./Sr. High School—a Sacramento County Office of Education (SCOE) juvenile court school program inside the Sacramento County Youth Detention Facility (YDF).
The closely supervised NCCT pre-apprenticeship program helps students learn the basics of the construction trade. Through this program, students can eventually join trade unions in fields like welding and carpentry following their release. The full support of the Sacramento County Probation Department makes it possible for SCOE to offer this Career Technical Education inside the YDF.
"The kids love it. It's one of our most in-demand programs, and it will help these young men and women earn a sustainable wage when they leave us," said Barbara Modlin, El Centro Jr./Sr. High School Principal.
Students learn construction basics, such as how to properly use tools, how to work in teams, how to create budgets, and how to plan projects. They also gain hands-on experience that teaches them how to use applied math.
"They're learning real-life applications," the principal explained. "It teaches the kids so many transferable skills that they can take with them once they leave us."
"Out of all the years I've been teaching," added Maberry, "there's something that just doesn't compare to teaching youth. To be able to access these students at the age they are and to expose them to something like this, something I'm very passionate about, which is building. Nothing can fulfill that. I can't buy that in a can or a bottle."
The instructor says he hopes the construction course will give students a level of comfort so that, upon their release, they will enroll in adult classes with NCCT, find a career in the construction trade, and earn a good wage.
Read more and watch the video from Sacramento County Office of Education