ICYMI: Marysville Appeal-Democrat: 'Seeing themselves in a different light'
YCOE provides CTE courses to incarcerated youth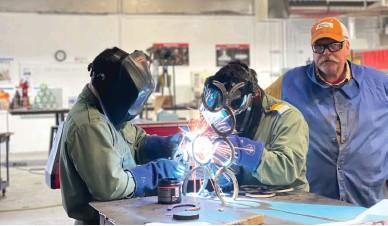 From Diana Vasquez in the Marysville Appeal-Democrat
The Yuba County Office of Education in partnership with the Yuba County Probation Department is providing career technical education to youth involved with the juvenile justice system.
Incarcerated youth participating in the Maxine Singer Youth Guidance Center, also known as Camp Singer, have had the opportunity to learn about construction and welding through handson experience. YCOE will also soon be providing CTE courses for culinary arts.
"Career technical education has always been offered to the students at the camp," said Ken Hamel, career technical education and adult education administrator for YCOE. "We wanted to expand the opportunities to those students, the different pathways and it's practical to bring this entire welding infrastructure experience into the camp program."
For about three months, the youth from Camp Singer have been taken to the Yuba County Career Preparatory Charter School on Tuesday and Thursday mornings to work with an instructor for about two hours a day to learn about welding. The number of students enrolled in the program may fluctuate depending on their enrollment at juvenile hall, said Hamel.
About eight students on average have taken part in welding courses in the mornings but the number of students that can participate can go as high as 15 to 20.
Steven Rebozzi, principal for court and community schools of Thomas E. Mathews Community School, Harry P.B. Carden Court School and Maxine Singer Youth Guidance Center, said YCOE often receives referrals from other counties in recognition of their successful CTE programs with incarcerated youth. In order to qualify for the program, students have to go through a process of recommendation. YCOE has received requests from other counties such as Shasta County, Napa County, Santa Cruz, Butte County and others to send their students to the Camp Singer program, said Rebozzi.
"One of the things that we're trying to do is provide transition plans for them as well," said Rebozzi. "The county offers specific transition plans with our partners in probation and with the YCOE to link our students who graduate and promote from the Camp Singer to job opportunities in the community and provide them opportunities when they leave here so that they have more support and further support outside of the facility."
One of the recently completed projects by the students was the construction of a greenhouse at Camp Singer. Hamel was there to participate in the ribbon cutting ceremony and had the opportunity to hear a young man speak of his experience. Hamel said that the young man talked about how all he ever wanted to do was fight, but now he was proud and enjoyed his first experience in building something.
"I think one of the things that we're seeing is that our students are seeing themselves in a different light now because they're accomplishing things, and when you build something, you see it and it's physically there," said Rebozzi. "So every time they walk by that greenhouse, you can see them hold their heads higher and they have more respect for themselves and more empowered on the things that they're able to do and see themselves in a new life."
According to Hamel, students are able to earn industry certifications. Because welding instructor Jeff Magill is a licensed inspector, students can leave the welding course with a certification.
Magill, a welding instructor for CTE at the Yuba County Career Preparatory Charter School, said he's been teaching for 36 years and retired from teaching at Wheatland High School in 2018. Magill said he first took on the teaching role of the welding course as a favor from a friend who asked him to teach it and with an opening of his schedule, teaching the classes worked out.
"The focus here is on welding certification," said Magill. "So it's a professional level international welding certification through the American Welding Society. When these students get certified, they can go out and get jobs anywhere in the world, but along with that, we also do safety training. We train them how to use everything in the shop."
Magill said his interactions with students are very positive. Many have never had a chance to do something like this before, said Magill. On Thursday, the students handed Magill a Christmas card thanking him for teaching them, with all their signatures included.
"One of the things that we have found in incarcerated persons, especially incarcerated youth, is that the number one cause of recidivism is poverty," said Dan Mcallister, CTE instructor at Harry P.B. Carden Court School.
"Their lack of income, lack of ability to earn a living causes them to go back into whatever life that they had come out of. So this is an opportunity for these students to provide themselves job skills and employment skills and a way of making an honest living, a good living through these programs."
In the near future, YCOE plans to work with businesses and community organizations to expand opportunities to these students. Some of the CTE programs that YCOE is working on offering to incarcerated youth students are auto technology, veterinarian assisting, aquaponics and plant soil sites and other CTE programs.
"One of the fun things that we're planning on doing is we're going to compete in a high school design build competition that's being held in Sacramento on May 4-5," said Mcallister.
"So we're going to be doing a building construction project for this competition, and this will provide them an opportunity not only to demonstrate their skills, but also interact with other high schools."