ICYMI: Officer Guerrero recognized by state and county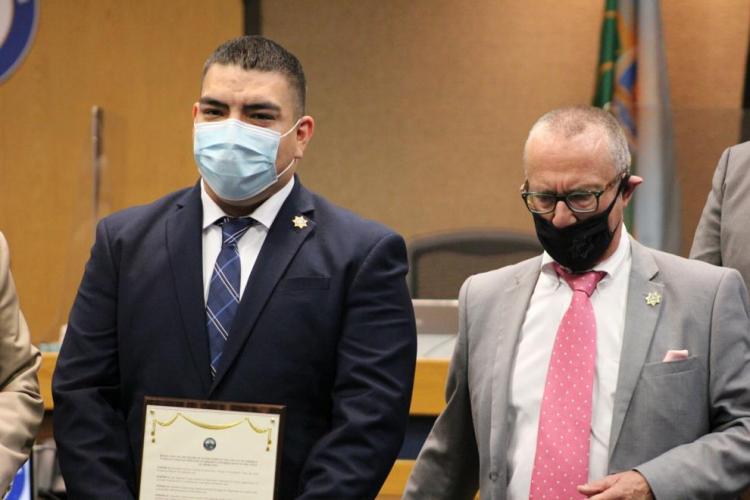 From Kayla Kirby in the Desert Review
EL CENTRO — The Imperial County Board of Supervisors presented a special recognition to Supervisory Probation Officer Oswaldo Guerrero Tuesday, Dec. 14.
This followed his recent receival of the Award of Excellence presented by the Chief Probation Officers of California for his significant contributions to the field of probation…
The resolution from the County Board stated, …Oswaldo Guerrero has steadily promoted through the department as a result of his considerable skill and passion to help others …"
Chief Probation Officer Dan Prince said, "We are extremely proud of Oswaldo's accomplishments … You've all heard of his many accomplishments this morning, sufficed to say that he represents many men and women in our department, who remember each day to balance the protection of the public with offering offenders opportunity to turn their lives around. Some of them are here today, and I'm proud of each and every one of them."
Guerrero was joined by the County Board of Supervisors and Prince for photos, congratulatory handshakes, and words of encouragement.
"(We) really appreciate somebody who can get involved and actually changing lives and making the world a better, safer place to live … I certainly appreciate you and I'm very proud," said Chairman Michael Kelley.
Guerrero thanked the Board…
"I'd also like to extend a thank you to County CEO Tony Rouhotas and the Board of Supervisors for their ongoing support to the Probation Department and our commitment to our mission," he said.
You can read the full article from Kayla Kirby in the Desert Review.