ICYMI: Stephanie Clark a probation officer with compassion
From the Mountain Democrat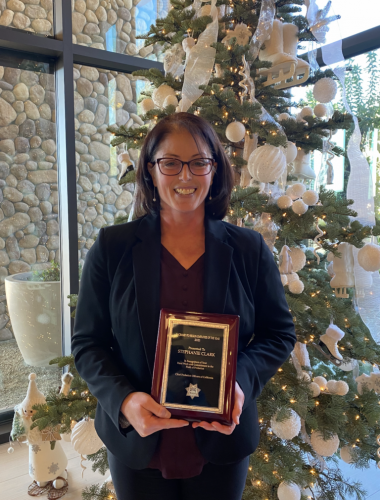 From the Mountain Democrat
SACRAMENTO — Outstanding leaders in the probation profession from throughout California were recognized Dec. 9 for their community contributions with awards from the Chief Probation Officers of California. Awardees were celebrated for their work and dedication to the transformation of adults and youth who are seeking to live healthy, productive lives outside the justice system.
Stephanie Clark, El Dorado County deputy probation officer, received the Regional Employee of the Year award for the Sacramento region.
The CPOC Awards Committee cited two examples of compassion and empathy Clark demonstrated for both people and furry "non-people."
As the purveyor and coordinator of CPOC's relationship with the Food Bank of El Dorado County, she ensures that her unhoused clients, as well as clients from the caseloads of other officers, receive items from the food pantry on a weekly basis.
The food pantry was established by Clark several years ago and has provided both daily sustenance to Day Reporting Center clients but also to many of the family members of clients as they take bags of wholesome groceries to their loved ones suffering with food instability.
During the provision of mutual aid, as the Caldor Fire required one-third of El Dorado County residents to evacuate their homes, Clark volunteered for more than 100 hours on the detail. An animal lover and rescuer, she also assisted in the evacuation of thousands of El Dorado County residents and returned to many homes to care for pets and livestock left behind.
While carrying herself as a consummate professional in the field, Clark practices the philosophy of improving public safety through the development of relationships based on trust and respect, states a press release CPOC.
"We are proud to honor our highly educated and trained officers and staff who showcase a commitment to their probation clients and the safety of our communities," said Orange County Chief Steven Sentman, president of CPOC.
"Their ability to connect justice-involved individuals with the resources and tools they need to succeed, combined with their ability to appropriately balance opportunity and accountability, sets members of this profession apart. This year's awardees provide hope, help and accountability needed to transform lives and create long-term safety in our communities. We appreciate all they do to deliver sustainable, common-sense safety."
The CPOC Awards Committee evaluated submissions from Probation Departments throughout the state and selected awardees who have demonstrated exceptional leadership, commitment and passion for their work.