'It's pretty cool.' Parents of juvenile offenders see their kids' art in the courthouse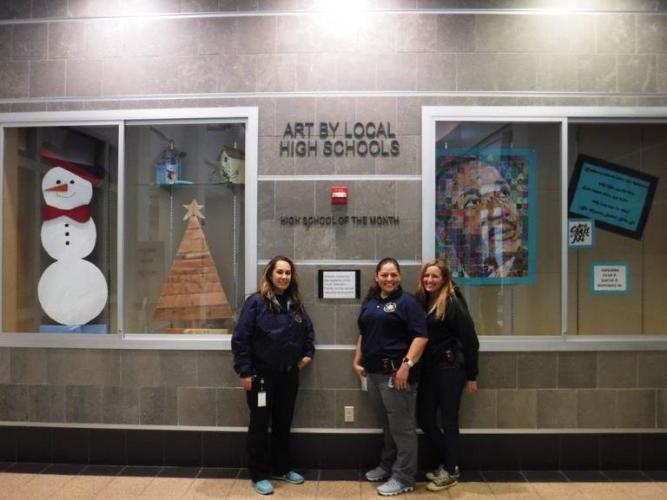 From the Sacramento Bee
There are two large, glass display cases to the right when you walk through the Sacramento County Juvenile Court. One features a portrait of Martin Luther King Jr. constructed from colorful, handmade paper squares. The other has woodwork pieces, including two birdhouses, a small Christmas tree, and a snowman painted white sporting a top hat and red bow tie.
In between the display cases a sign reads "Art by local High Schools," but as of January the artwork on the shelves has been created exclusively by kids living in the Sacramento Youth Detention Facility (YDF), housed just steps away from the front doors of the courthouse.
This new initiative is called Fresh Start Art.
The kids like to tell their parents that their artwork is in the courthouse, said YDF probation assistant Nicole De La Riva, adding that because the pieces are on public display parents can come to see them.
"It's pretty cool because they can brag about it," De La Riva said.
One of the artists, who is not being named due to privacy concerns, said that his mom gets to see his artwork every time she comes to court.
"It's cool because my name is being heard in a positive way," he said.
De La Riva, who came up with the concept for the Fresh Start Art program, said she was in the courthouse one day giving a new co- worker a tour when she noticed that the display cases held art that was a decade old. She asked if the detention facility could take over responsibility for creating the displays.
No one could even find the keys at first, remembers De La Riva, adding that the cases were full of dust.
The first round of artwork went up Jan. 3 and new displays will be rotated in quarterly, said De La Riva, with the next display going up on April 2. It will include a portrait of Cesar Chavez, plus poetry and stories from YDF residents that participate in the 916 Ink literacy program.
While the Fresh Start Art name is new, the detention facility's Visiting Center Art program has been around for two years, spearheaded by two other probation assistants named Nicole Gray and Ashley Rangel. So when De La Riva came up with the idea to display art in the courthouse, she asked Rangel and Gray to team up with her.
Doing art with the kids helps build rapport, said Rangel, adding that she doesn't think the kids get to do these types of things on the outside, where they often have to grow up too fast.
The walls in the visiting center of the detention facility are lined with portraits of important contemporary and historical figures like Steve Jobs and Frida Kahlo, along with artistic renderings of quotes or poetry. Rangel said they are trying to create a gallery atmosphere in the visiting center.
Rangel pointed out that many of the art pieces in the visiting center are set in frames made by kids in the detention facility's on-site Northern California Construction Training (NCCT) program.
This type of overlap can be found in many of the detention facility's programs and projects in some way.
The woodwork pieces in the display case were also made by kids from the NCCT program, said De La Riva, where they had to plan and create their own art projects themselves from start to finish – designing, building and painting.
"Since we are displaying art in the (detention facility's visiting center) and courthouse, we decided we needed a new name to incorporate all the art," said De La Riva. "I also wanted to showcase some of the other art projects our talented residents made from other programs within the facility."
The detention facility is also trying to get cameras for its Boys & Girls Club, so the kids can learn photography and maybe even have some of their images go on display in the courthouse as well, said De La Riva, adding that staff members are learning how to display different types of art.
Detention facility staff are constantly trying to expose the kids to other things, said Ruby Jones, Sacramento Probation Department assistant chief deputy. To show them "that there are other things out there instead of committing crimes."
BY CASSIE DICKMAN