Juvenile crime rates plummet amid new approaches to tackling youth crime
San Diego County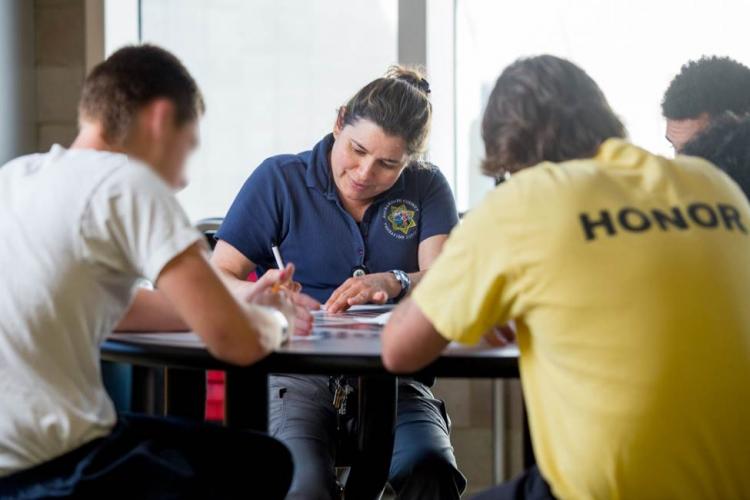 When San Diego County went looking for grant funds to help build a 300-bed jail for juveniles, officials argued that the 1950s-era Juvenile Hall on Meadowlark Lane was strained to the breaking point.
"There is literally no more room at the inn," the county warned in a grant application in 1999 seeking $36 million in construction funds for what would become, in 2004, the East Mesa Juvenile Detention Facility.
And things were only going to get worse: At the time, the county estimated it would need 1,284 beds to house all its juvenile offenders by 2015.
But today, there is plenty of room at the inn — so much so that whole sections of the county's two juvenile halls are periodically shuttered, because there is no one to put there.
And contrary to those dire predictions of 1,200 spaces for delinquent youths, the number of juveniles in custody in the county's network of juvenile halls and camps is a fraction of the estimate penciled out in the grant application.
In 2015, the average daily population in the juvenile halls and youth camps was 445 — nearly two-thirds less than predicted.
The dwindling population of juvenile hall is part of a broader and deeper decline in juvenile crime that has accelerated markedly since 2010 — in San Diego and numerous counties across the state.
That decline — measured in arrest rates, the number of youths supervised by county probation officers, and held in juvenile halls — has been driven by a broad change in approach over the past decade.
Instead of the increasingly harsh juvenile measures of the late 1990s and early 2000s, which lowered the age for children to be tried as adults and locked up youths for minor crimes, probation departments have embraced a system that emphasizes early intervention, evidence based risk assessment of youths, a strong tilt toward rehabilitation and away from incarceration.
By almost any measure the shift has had enormous effect.
The number of youths under supervision of the county Probation Department declined by 39.5 percent between 2012 and 2016. The juvenile arrest rate in the county declined 53 percent from 2011 to 2015, according to data compiled by the San Diego Association of Governments (SANDAG).
Similar declines occurred in Los Angeles (58 percent) Riverside (54 percent) and Orange (55 percent) over the same period.
San Diego's juvenile hall population plummeted 48 percent since 2012. That's a trend echoed across the state.
Data from the Board of State and Community Corrections shows that at the end of 2015, the most recent year data was available, juvenile halls in two-thirds of counties in the state were less than half full.
Yet while welcoming the declines, juvenile justice experts who have long toiled to reform the system said they don't know, precisely, what has driven down the numbers so much.
The philosophical shift away from lock-'em-up policies is certainly a significant part of it, but they said more study has to be done.
"The most interesting story in California criminal justice policy is what has happened to juvenile crime and incarceration," said Joan Petersilia, a Stanford University law professor and co-director of the Criminal Justice La Center there. "We have the most innovative policies anywhere, but the least amount of data to assess how they are working."
REALIGNMENT
Even without hard data there is some agreement about what is likely behind the drop in juvenile delinquency.
While youth crime has been declining for years, a decade ago California dramatically changed its approach in a series of new laws, chief among them the sweeping juvenile justice realignment bill.
Among other things, the bill mandated that youths convicted of nonviolent crimes could not be sent to the overcrowded and violent state juvenile prisons. Instead they had to be taken care of by counties — and the realignment legislation gave counties funding through special block grants to spend on juvenile justice.
In San Diego and other counties, that money has been deployed into an array of community based programs that provide alternatives to simply locking youths up in juvenile halls or sending them to youth detention camps. San Diego received about $9 million this year, about 15 percent of the department's $60 million budget for juvenile services.
When a juvenile is arrested or detained by police officers on the streets, they can be referred to diversion programs or other alternatives to going into custody.
And even if the officer decides to take the youth to juvenile hall, probation officers there can make their own assessment and steer the case away from detention and to community supervision.
Probation officers and social workers gauge the level of risk a youth presents using assessment tools, then design a program of supervision, case management and other services, funneling low-risk youths into diversion programs instead of custody.
"There is a lot more emphasis on looking at what we can do better than what we have done in the past to address the needs of these youth, and balancing that with public safety" said Superior Court Judge Carolyn Caietti, presiding judge for the juvenile courts.
That was the approach taken with Carlos, a 17-year-old National City youth arrested for battery June 27 after getting into an altercation with his father. He is not being fully identified because it is the policy of The San Diego Union-Tribune not to identify juveniles charged with crimes unless they are tried as adults.
Instead of being taken to Juvenile Hall, Carlos went to a licensed foster care family that participates in the county's "cool beds" program. It provides short term foster care of up to two weeks for youths who have trouble at home and in their families.
Once there he was placed in Alternatives to Detention run by South Bay Community Services, part of the network of programs set up to keep youths out of custody.
He was taken to school every day and picked up. He got a case manager, individual and family therapy, and worked at the group's offices in Chula Vista daily.
Two months later, he said he gets along far better with his family, has caught up on school work, and is more positive about what lies ahead.
"I feel like I'm in a great position," he said, adding a stint in Juvenile Hall likely would not have been as good. "Juvenile Hall puts you in a bad place, you get bad habits and a bad state of mind. You wouldn't learn anything."
It's a sharp turnaround from the late 1990s and early 2000s, when some criminologists forecasted a coming wave of juvenile crimes — a generation of "super predators" who would have to be dealt with harshly.
That ushered in a series of changes to juvenile law. The state lowered the age that youths could be prosecuted in the adult system — where prison sentences are much harsher — from 16 to 14 years old.
San Diego county was in the forefront of those changes. The first youth under 16 to be tried for murder as an adult was Tony Hicks, a then -14-year-old convicted for shooting Tariq Khasima to death and sentenced to 25 years to life in prison in 1996.
The youngest girl ever tried as an adult was Escondido 15-year-old Danielle Barcheers, serving a life sentence along with her teenage boyfriend for murdering his aunt in 1997.
Then, in 2000 voters approved Proposition 21, a sprawling anti-crime measure that contained major changes in juvenile law.
Prosecutors were empowered to file cases against youths charged with murder or some sex offenses directly into adults court — bypassing the decades-old procedure where a juvenile court judge determined if a youth would be sent to adult court or not
It also made detention in juvenile halls mandatory for youths charged with any one of 30 designated crimes — a step that filled halls across the state with first-time offenders and seasoned delinquents alike.
The measure was challenged by the family of a Rancho Penasquitos youth who was one of eight teens charged in a rampage through a migrant workers camp in July 2000. The Supreme Court ultimately upheld the measure and the direct filing provision.
Less than a decade later state policy began to turn away from that, as costs for detaining thousands of youths mounted and youth crime rates trended down. Critics of the draconian measures then are now feeling vindicated.
"There were some irresponsible, very alarmist predictions then," said Mike Males, a researcher at the Center for Juvenile and Criminal Justice. "I think what we can now say is, it is not necessary to lock up kids to have lower crime rates."
DOES IT WORK??
Instead, the juvenile system has shifted away from what Chief Probation Officer Adolfo Gonzalez described as the old-style "hook-'em-and-book-'em" mentality. That philosophical shift has impacted some school districts too, like San Diego Unified.
The district has embraced "restorative justice" ideas that emphasize rehabilitation and offenders making amends with victims. In 2012, the district adopted policies that discouraged school officials from calling police for low-level offenses, and directed school police to use arrest only if absolutely needed.
As a result arrests in the district — which in the past likely would have shuttled youths into detention, court and probation — have dropped, from 669 in 2012-13 to 222 last year.
The drop in school arrests illuminates a key question — is youth criminal behavior declining? Or are policies that deflect youths from being channeled into the system of custody or probation responsible too?
Males is one of those who welcome the change, but want more study to find out what really is working.
"I'd like to be the person who comes up with the answer about why juvenile crime has declined in south central LA, east Oakland, Marin — all these areas have had huge declines, are so different from each other, and are doing different things."
Deputy District Attorney Lisa Weinreb, who heads the juvenile division, said the shift of assessing youths and steering those who are low or medium risk to diversion and rehabilitation is responsible for the decline.
"I don't believe it is because there is less juvenile crime," she said. "What has been a bigger push is not to bring as many youths into the juvenile justice system. We are not bringing kids into the system who do not need to be there. So the only kids being detained in the juvenile halls are the high risk and high need kids."
Some data shows the new approach works. South Bay Community Services is a countywide nonprofit that provides services for children families and youths — and is the coordinator for the countywide Alternatives to Detention program for youths.
The program oversees low-risk youth in the system, providing home confinement monitoring, family counseling, anger management and other rehabilitative services.
Last year some 500 youth went through the program, and 89 percent had not reoffended six months after leaving, according to Executive Director Katherine Lembo. She credited the use of more sophisticated assessment tools and emphasis on evidence-based practices that zero in on programs and services that are most effective in improving behavior.
"We knew it wasn't working, lowering the age and all that," she said. "A kid shoplifts. Should we really put them in the hall and take them through the system?"
The answer is increasingly no. And that is starting to change the very landscape of juvenile justice.
The county is in the early stages of planning a redevelopment of the aging Kearny Mesajuvenile justice center. It will likely replace the grim, 1950s-era juvenile hall with a campus that reflects the new, less punitive approach.
That's not all. In 2015 the state made a conditional award to the county of $4.5 million in construction funds, to build a new building for youths confined at the East Mesa hall. But in April, Gonzalez wrote a letter to the state explaining the county was rethinking its long term facilities needs in light of the Kearny Mesa project — and "the continued decline in custodial youth."
The letter formally relinquished the $4.5 million. The county, the chief wrote, wouldn't be using the money.