Nevada County Probation Highlights New Vision for Youth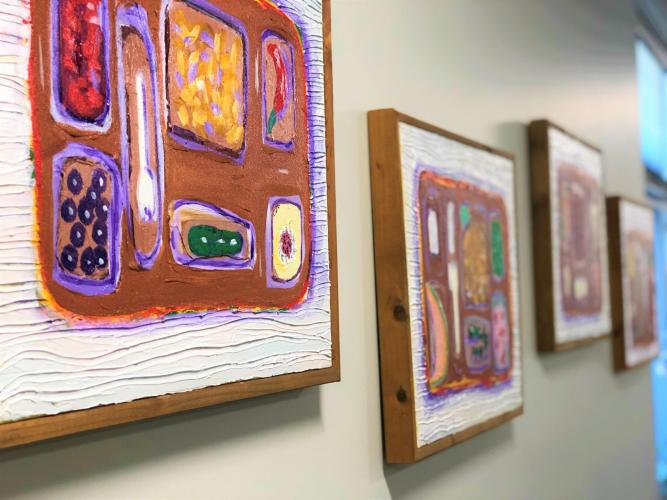 The Nevada County Juvenile Hall has a new name, and a new purpose. Now known as the Nevada County Carl F. Bryan II Youth Center, the hall will continue to provide secure services for those few youths who need a safe place to reset their life on a positive path and get the help and services they need, but it will also service other youth by partnering with additional programs.
The new center will focus on the needs for all youth in the community.
To showcase their plans for the future, Nevada County Probation Chief Michael Ertola invited the California State Association of Counties (CSAC) Juvenile Justice Working Group members to see firsthand the progress and vision for the youth center.
The vision for the future of the Youth Center includes collaboration with the Superintendent of Schools office to house their community school at the center. Included in this is having a Behavioral Health Therapist available to these youth as part of the vision for inclusion of prevention services. Youth Center space will also be used for programs like the local 4-H organization, who is looking forward to hosting events and activities there and getting youth in the hall involved in their programs who might not otherwise have the opportunity.
The goal is to expand the Youth Center programming to include as many youth prevention and diversion opportunities as possible.
As one of six pilot counties, the Youth Center houses Transitional Age Youth (18 to 25-year-olds) as part of a program which allows these young adults to receive age-relevant intensive treatment services in juvenile hall, rather than serving their sentence in a jail.
Current programs will continue after the repurposing of the facility and will become more vital to the continuum of services and supports Nevada County is providing to youth in the county.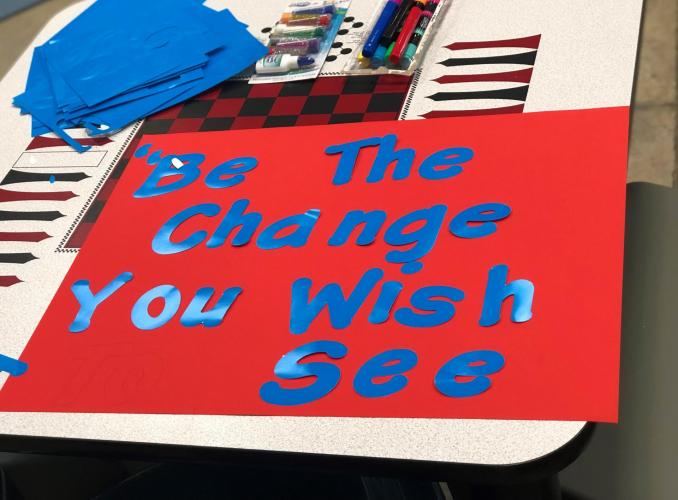 The facility already boasts a robust garden, which is maintained by staff and residents in the hall and provides not just an outlet for youth to experience horticulture but also directly provides fresh vegetables for youth to enjoy. They plan to add a greenhouse for year-round harvesting by next year.
Youth are encouraged to partake in the care, harvest, and consumption of fresh produce. They grow vegetables, including peppers, peas, zucchinis, and cherry tomatoes to eat. They water and keep the plants healthy and ask questions about gardening for after they leave.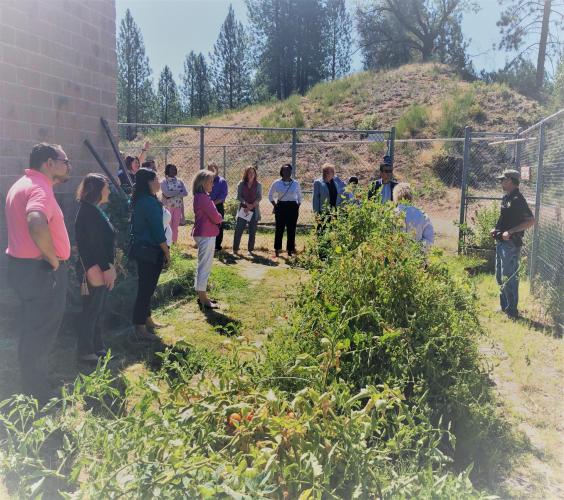 Staff shared stories about simple things that have positively impacted youth who have spent time there. One youth said he had "never touched a golf ball in his life," but staff taught him how to play, and as he got better at it, they promised him that if he worked hard and finished high school they would take him to play a real course. When he arrived, he had little chance of graduating.
The group was told about his hard work and encouragement from staff at the facility. The news was shared with the group, "He graduates today. We have a tee time tomorrow."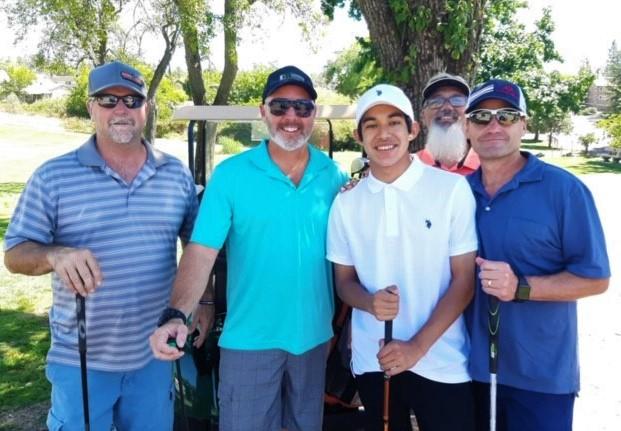 Youth also have access to the workout room. Staff discussed the positive impact donated exercise equipment has had, as youth can listen to music while they channel their emotions or struggles of the day in the weight room.
"It changes their whole mindset, coming in here and working out. And we are teaching them how to do it the right way, so they don't hurt themselves," said Probation Manager Mike Sypnicki. Outside, a volleyball net, golf training net, and basketball hoop are just a few of the other sporting activities available for youth.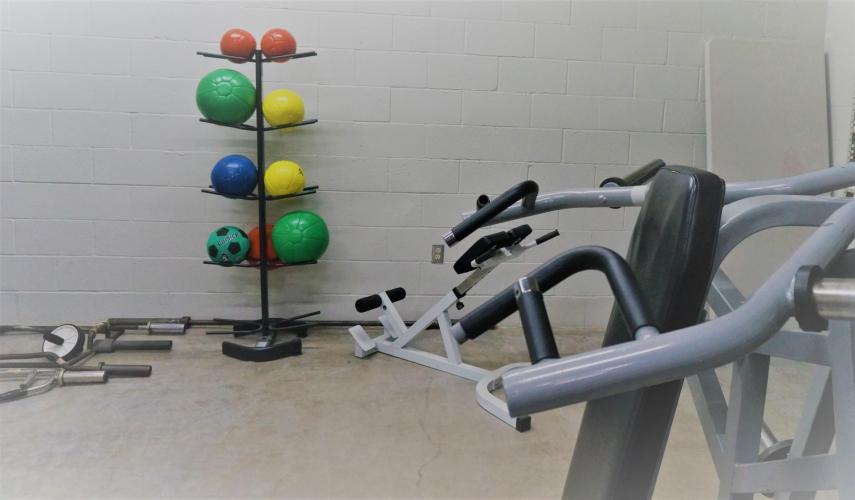 One of the most frequent questions probation officers get is "do they go to school in juvenile hall?"
Education and school are "at the heart of this whole program," confirms Chief Ertola. School is an essential part of helping youth grow and thrive.
When youth arrive, the teacher finds out their level of education, and requests transcripts from their last school so they can continue. Over the past eight years, they have graduated over two dozen youth from high school.
Graduations are a big deal – for youth and staff. The ceremony for a graduate includes cap and gown, refreshments, and a ceremony. Family and friends are invited. It is a serious and significant moment for both the youth and the probation officers working with the youth.
As one probation officer said, "Nobody can take diplomas away from these kids. Nobody." To probation staff, this is one of the most important things they can give them: a hope for their future.
Besides diplomas, youth partake in intensive programming to address their needs. They can start careers and join the workforce with the help of probation staff who care and want to see them thrive. The goal when they leave is to get "yes" to every question they were asked when they arrived. Yes, I have a birth certificate. Yes, I have a bank account. Yes, I have housing. Probation staff asks youth "what interests you? Where would you like to work?"
Where possible, probation assists youth in getting jobs. They receive lunches and get rides to/from work. For various reasons, many youth must live away from their families. By helping them get housing, employment, and stability, it increases their security and self-esteem, and helps provide the real-life tools they need to succeed in the future.
Nevada County is taking great strides to help their community, by eliminating those items that carry the stigma of a detention facility, as it transitions to a youth center. Distinct signs of detention are disappearing, beginning with the removal of the barbed wire from the fences, as they make physical changes to the building as well as programmatic changes.
Reimagining spaces that are unused, carpet will be placed in the halls, the grey surfaces will be painted in color, and soon, affirming beautiful murals will cover all the walls.
The probation officers know the youth need help to grow and make healthy and positive choices. They want to provide the services, resources, supports and environment to allow youth to achieve the growth they need.
After these changes, the Nevada County Youth Center will be the perfect place to host and help young people.