PPPS Week Highlight: Six Graduates Celebrated the Completion of "Another Way", Domestic Violence Program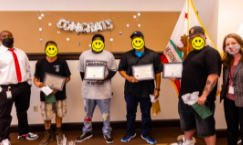 In honor of Probation Services (PPPS) Week, Chief Probation Officers of California is spotlighting probation officers and staff who help justice-involved individuals transform their lives and put people on safer, healthier pathways.
Last year, Solano County Probation Department celebrated its first graduation for the Domestic Violence program, "Another Way." This 52-week in-house program started in April 2020, allowing probation clients to participate free of cost. Six graduates were honored, and other classmates attended in support.
The program was made possible by Social Worker Sarah, Mental Health Clinician DeShannon, and the Collaborative Court/ Domestic Violence Unit.
Chief Probation Officers of California commends the hard work of the probation staff and officers who helped the graduates make better decisions and improve their lives. Probation helps create safer communities by providing individuals with a balance of accountability and the necessary services and support.