Probation Departments Give Back to Communities by Participating in Annual Torch Run to Benefit the Special Olympics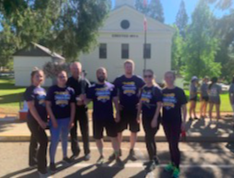 In honor of Probation Services Week, Chief Probation Officers of California are highlighting probation staff and officers' service and compassion on and off the clock. Probation is committed to giving back to communities and helping change lives.
Probation departments from Mariposa, Sonoma, Solano, Sacramento, and Nevada counties participated in the 2022 Law Enforcement Torch Run for the Special Olympics.
Officers and staff from these probation departments ran the torch, the "Flame of Hope," through their communities, bringing awareness and raising funds for the Special Olympics held June 24th-26th. The torch symbolizes courage and celebration of diversity, uniting communities worldwide.
Over 2,000 law enforcement agencies throughout Northern California participated and raised a record-breaking $417,421 for the Special Olympics in Northern California. We are proud of probation's enthusiasm to volunteer their time.