Probation Officer Recognized for Saving Life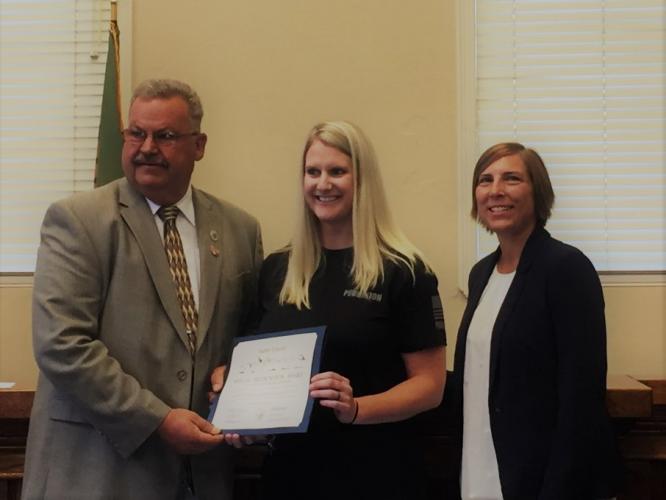 Sutter County Deputy Probation Officer Amy Depew was recognized by the Sutter County Board of Supervisors on September 24, for an act of heroism.
In early August of 2019, in the evening hours and while off-duty, Officer Depew received a call from police officers concerning an 18-year-old young man who was threatening to jump from a bridge. He was also holding a knife against his stomach.
Despite their best efforts, the police officers were unable to talk the man down from the bridge.
Then came a breakthrough for the police officers trying to help this young man – he told the deputies he would only talk to Officer Depew from the Sutter County Probation Department.
They quickly figured out a way to get in contact with her, knowing they had critical moments to try to save this man's life.
Probation Officer Depew, a school resource officer, had worked with this young man when he attended the high school to which she was assigned.
Officer Depew talked to the young man over the speaker phone of one of the police officer's cell phones.
She was able to help him understand that he had nothing to be afraid of, he has a life that is important, and he needed to put the knife down and step away from the bridge railing in order to live that life.
He heard her, and he listened. He stepped away from the railing and put down the weapon he was holding to do himself harm. The officers on scene were then able to take him into custody for his safety and work to get him the supports and help he needs.
Because of the rapport and relationship of trust that Officer Depew had built with this young man almost a year prior, he requested only her to speak to in his most desperate hour of need. She was able to connect with him, relying on the trusted relationship she built by investing the time to help this youth.
Officer Depew had no special training as a crisis negotiator and had never been in a situation like this one in her twelve years as a probation officer.
But she relied on the extensive training she has as a Probation Officer in communicating with people in order to try to address their needs and assist them on a positive path.
Officer Depew remained calm and focused throughout the incident, and she relied on her instincts, training and communication skills to bring the situation to a positive resolution.
Research supports the quality of the probation officer-client relationship is a large predictor of success. This story seems to support the importance of relationship in a clear way.
Although Officer Depew was only in his life for a short time, she was able to build an important connection with this young man. In her role as a school resource officer, she worked to get him help and address his needs, while creating a positive relationship and open lines of communication.
And in this young man's darkest hour, she was the one he asked to help him. And she was able to help save his life.