Probation Officer's Life Mirrors Juvenile Justice Transformation
From County of San Diego Insite News
When Probation Officer Elizabeth Brown works with teenagers in detention, she knows what they're going through. She really does. It doesn't come from empathy training. She was one of them.
She just had her first anniversary as a County employee. Her long, difficult path there included several stints in juvenile hall and years as a Probation client.
Elizabeth's personal turnaround is remarkable and inspiring. It also reflects one of our biggest stories at the County in recent years: the transformation of our Probation department, especially for juvenile justice. We've had a lot of changes in our organization but probably none more dramatic than how we approach young people whose lives have gotten on the wrong track.
Take Elizabeth's history as an example. She grew up in an unstable household, regularly exposed to family members using drugs and so much violence that she says it felt normal to her. She had a lot of anger, started getting in fights, and at 15 years old made her first trip to juvenile hall.
Given the environment she came from, the results are not surprising. In fact, sadly, they're pretty typical. So underlying our changes to juvenile justice is first a recognition that many of these kids' behaviors are an outgrowth of bad circumstances. They need help, encouragement, stability, and someone to believe in their worth.
"No matter how much these kids push your buttons, they might be going through something that we just don't know why they're acting the way they are," Elizabeth says. "And sometimes some of them are hard to get to. It takes a little bit of time to break through that wall and for them to start to accept you and begin to change slowly. You know, it's a long process. They've been through a lot."
That's meant a shift for probation officers, whose role is now less cop, more counselor and coach. Their training includes learning about adolescent brain development, trauma-informed care, and restorative justice. They really get to know the young people and the root causes of their challenges. That kind of approach is what really made the difference for Elizabeth. She says those who took a personal interest in her made her want to improve her life. She didn't want to let them down.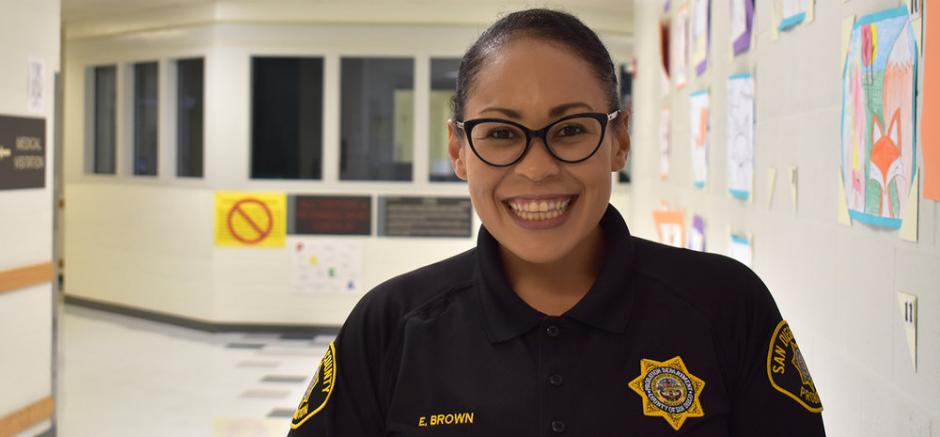 One officer helped arrange for her to have tattoos removed, taking her to the appointment and staying with her during the procedure. Elizabeth was touched by the effort. Those kinds of relationships and that level of involvement is now becoming more commonplace in the department.
Elizabeth says when she went to juvenile hall, it was traumatic to lose the connections she had to friends and family. We now know that kids are going to have a better chance of successfully returning to the community when we help maintain positive networks. We're making it easier by increasing visitation hours and moving the youths away from remote locations that many families have trouble getting to. The last few years, detention facilities have hosted Thanksgiving dinners so that relatives can join the youths and they can all be together at a traditional time for families.
In general, we've worked to make the environment more home-like. We're going to be taking a much bigger leap in that direction within the next few years by creating a new campus that will replace the existing juvenile hall. The $112 million project will create smaller living units, with more private spaces and recreation opportunities. It will also include improved facilities for staff, such as lounges where they can decompress from a high-stress job.
Of course, what's even better is helping kids stay out of any sort of facility, and we're working harder than ever at that. Our number of juveniles in custody has dropped to less than a third of what it was at its peak, and we want to keep that trend going. Thousands of young people each year participate in Alternatives to Detention and a variety of diversion programs. Our recently opened Achievement Centers offer structured, prosocial activities during afterschool hours.
These are all illustrations of how we're working with these clients as people – individuals with complex and unique needs. It takes a comprehensive approach to achieve the kind of outcomes we're striving for. So Probation is also getting more involved with the community, engaging a variety of partners, and working more closely with Health and Human Services and other County departments. This allows us to deliver wraparound services and build more relationships to proactively reach at-risk youth.
Elizabeth hopes to work in the community someday. Even as she tried to move on from her years on probation, she continued to face struggles: domestic violence and life as a young, single mother. But she persisted, getting a degree in criminal justice and eventually coming to the Probation department. For now, she's at the East Mesa Juvenile Detention Facility, where she's turned her difficult past into an asset.
"My history helps me in being more understanding," she says. "I don't get upset when they're doing things they shouldn't be doing. I just take the time to talk about it."
I thank Elizabeth for sharing her story and offer my congratulations on her courage and everything she's done to get where she is. And let me express my appreciation to all Probation staff for the demanding work you do to improve lives and keep us safe.