Probation Services Week Highlight: Solano County Probation
Jennifer Ramirez, Deputy Probation Officer: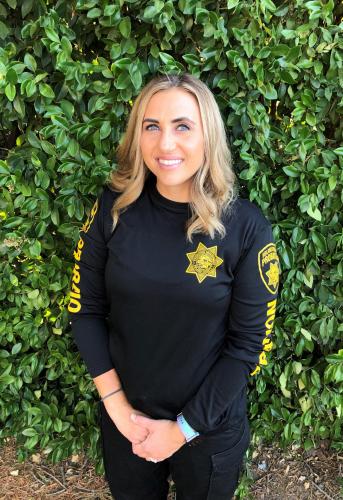 Deputy Probation Officer, Jennifer Ramirez, is a helper by nature. From clients to peers, she will go the extra mile to help a person in need. From advocating for services, to delivering food and medication to a client, she will not turn away from a client in need of help. She's no different with her colleagues. Despite having a bustling caseload and family life, Jennifer extends herself to others, on and off duty, as a Peer Support Member. In addition, she volunteers to serve as a Wellness Ambassador for our Department. When a co-worker is in need of assistance, Jennifer is often the first to offer help.
Jennifer is not simply great at teamwork, Jennifer is kind, thoughtful, and caring. The help and compassion she offers is from the heart. During the height of COVID restrictions, she took it upon herself to deliver groceries to peers who were quarantined. When her peers have a personal or family emergency, she finds time to reach out and simply send well wishes or ask how things are going. Jennifer's concern for others makes a positive difference wherever she goes. "Her passion not only for her work, her coworkers, and family is evident, Solano County Probation is lucky to have such a dedicated officer," said Shawna Albright, Solano County Probation Deputy Director.
Jennifer McHuen, Senior Deputy Probation Officer:
The pandemic brought many changes to how business is conducted, and despite the barriers thrown her way both personally and professionally, Senior Deputy Probation Officer, Jennifer McHuen maneuvered through it with ease. Her strong work ethic was demonstrated at the highest level, as she not only took care of her own responsibilities but modeled and verbally encouraged her unit peers to display the same reminding them of the importance of maintaining the Department's vision. Additionally, the Department went through changes with the implementation of our new case management system, eProbation that resulted in many issues.

She took on a role of practicing many of the new system requirements and reporting any issues/errors noting the negative impact it would have on the work of all officers within the Department. With regard to the new AB1950 law, she demonstrated self and community responsibility by addressing her own caseload list, volunteering to assist an officer on leave, banked caseloads, and presenting issues that could affect the overall Department such as noting concerns related to victim restitution and collection of required DNA from clients who were expected to expire expeditiously. She not only reported issues or concerns, she shared valuable ideas toward positive resolutions for us all. She have been a positive senior lead throughout 2020 and it has been recognized. "Jennifer's initiative and leadership has been an asset to the Solano County Probation Department, helping us work through some of the challenges we have faced this last year," said Deputy Director Shawna Albright.