Removing Barriers & Bringing Services to the Community: A common-Sense Approach to Working with Justice-Involved Unhoused Individuals
How Placer County Probation is Innovating to Enhance Safety by Increasing Access to Tools, Resources for the Those in Need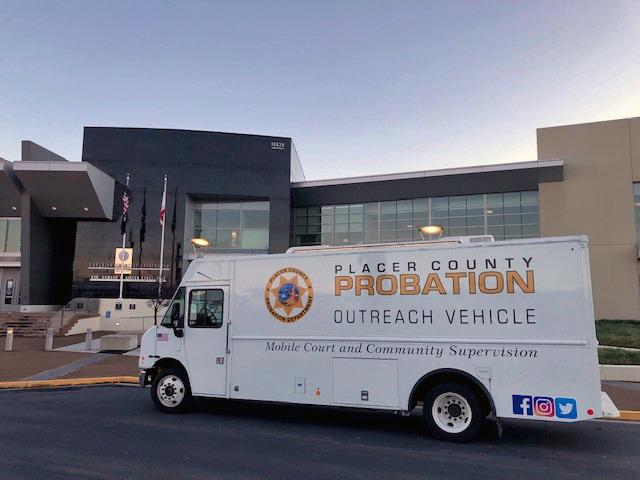 In an innovative move to remove barriers for justice-involved people in Placer County, particularly the unhoused and those with transportation barriers, Placer County Probation Department this month unveiled their Probation Outreach Vehicle (POV).
The modified vehicle is a first-of-its-kind mobile probation office, courtroom and assessment center used to better meet the needs of the community and justice-involved people where they are. The POV is part of Placer County Probation's broader efforts to foster deeper connections with the community while increasing services and accessibility to the people they serve to increase safety and stability.
The Department has long been exploring ways to increase connections and efficiencies in the system. The worsening homelessness crisis and transportation barriers due to COVID-19 further underscored the need for an innovative approach. According to the Department, when presented with the opportunity to reconfigure an underutilized county vehicle, Department leaders jumped at the opportunity to enhance their services with a new, common-sense approach to public safety: bringing the services probation has to offer directly to the community members who have the most difficult time accessing them.
"The Probation Outreach Vehicle is a game-changer for the way we serve our community. By increasing our capabilities to serve unhoused individuals and those with transportation barriers, we are helping all justice-involved people complete successful rehabilitation," said Marshall Hopper, Chief Probation Officer of Placer County. "We are proud to pilot and implement evidence-based practices that provide justice-involved people with the tools and resources needed to transform their lives. Serving as a connector in the justice system, we are mission-driven to deliver sustainable, common-sense public safety."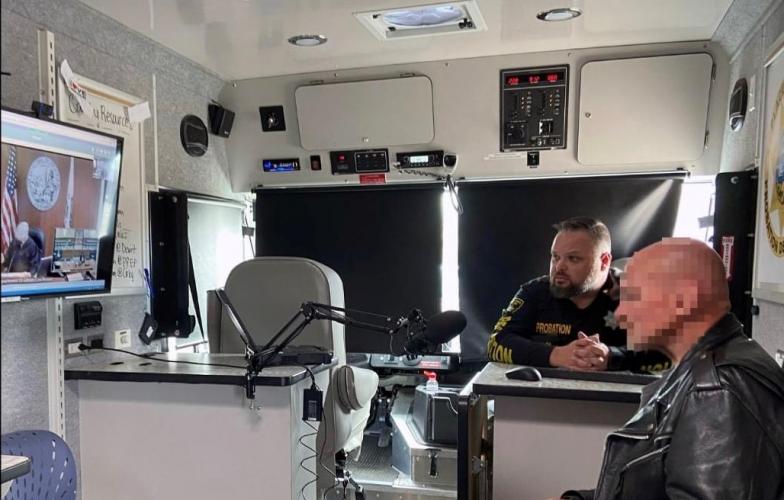 The vehicle is equipped to include a television, video equipment, wireless internet, printers, office supplies and everything needed to bring probation services to the community. The POV provides shade, heat, A/C and protects the unhoused from the elements — even brewing up fresh coffee for all to share.
"Placer County is grateful for our probation department that is sincerely dedicated to increasing connections with our residents while creating innovative, thoughtful ways to reduce barriers and improve outcomes for individuals involved in the justice system," said Todd Leopold, CEO of the County of Placer. "The services, connection to resources and accountability the Placer County Probation Department provides makes our county safer. We are pleased to support their efforts to serve all members of our community."
The Probation Outreach Vehicle has already served 58 clients by visiting homeless shelters in Auburn and Roseville. Soon, Placer County plans to connect homeless clients to court via video. In addition, plans are in the works to hold re-entry classes from the vehicle, significantly bolstering the ability of justice-involved people to access critical, evidence-based rehabilitation programs that lead to lasting change and help them safely leave the justice system permanently.
"Placer County Probation's new Probation Outreach Vehicle is yet another example of how probation departments across the state are stepping up and leaning in, finding innovative, practical approaches to equitably serve their communities," said Karen Pank, Executive Director of the Chief Probation Officers of California. "Placer County Probation is connecting justice-involved people to the accountability and opportunity they need to transform their lives and build positive ties to their communities."