At-risk youth, senior volunteers team up on the basketball court
Respect, teamwork are some of the lessons learned by students during the weekly games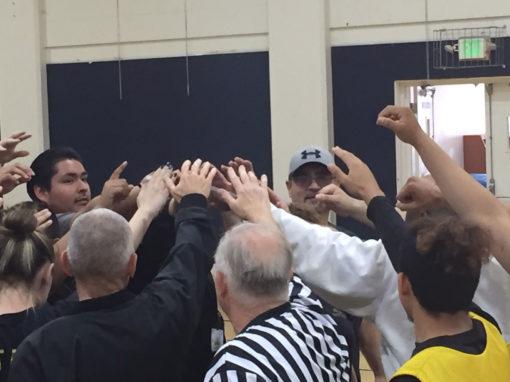 From Gilroy Life
A typical high school basketball game pulses with energy. The ball thuds against the backboard, echoing throughout the gym. Shoes squeak against the shiny wooden floors as players and officials sprint the length of the court. The gentle swish of the ball passing through the net is met with the muffled clap of random high-fives and boisterous cheers from the audience.
But at this game inside Wheeler Gym, there are no spectators, no rooting parents, no cheerleaders. Aside from the players, coaches, and officials, there are only volunteers from the Santa Clara County Probation Department, the city of Gilroy, and the Santa Clara County Office of Education.
The teenage boys playing this game are here from Broadway High School, located in South San Jose, and Central High School in Morgan Hill. These are alternative or continuation/community schools, offering educational programs to students who have been removed from their home school due to truancy, behavior, and/or delinquency, and may be on probation.
Some of the participating schools include Mt. Madonna High School of Gilroy, Blue Ridge High School at the James Ranch in Morgan Hill, Odyssey Community School in San Martin, and the EDGE/PEAK School in San Jose.
In 2006, Jennifer Daughenbaugh, a deputy probation officer, and some of her colleagues from the Santa Clara County Juvenile Probation Department and the COE saw the need to create a sports league for students in these schools, where extracurricular activities were limited, and in some cases, nonexistent. The idea was to provide positive, pro-social activities that encourage teamwork and responsibility. As a result, the Pro-Com (Probation-Community) Athletic League was born. Its activities develop confidence, build self-esteem, and teach sportsmanship, the primary focus of the league. A total of 14 schools have participated in the league. Other activities include softball, soccer, volleyball, fitness competitions, trail running, and trips to the South Valley Symphony. But it all started with basketball.
"This isn't about basketball. It's about life," Daughenbaugh explained to the players during the pre-game meeting at center court. She went on to say that there will be times when you get knocked down, you'll get scratched, you'll lose. The key is to get back up and help someone else up while you're at it.
The pre-game chat includes a few words about the rules: no gang colors, no jewelry, keep the jerseys tucked in. The boys are encouraged to ask questions if there's something they don't understand.
Then the players shake hands, gather with the officials and staff, and raise their arms for a group cheer. In fact, the sportsmanship Pro-Com promotes was on full display just moments earlier.
About a dozen Broadway players, wearing black jerseys, warmed up with a shoot-around. A few minutes before tipoff, the Central players, wearing gold jerseys, walked in.
All three of them. Their coach offered to play three-on-three but was told that Broadway would rather run the plays they've been practicing, so they gave up two players. In short order, two Broadway players jogged over to the Central bench, introduced themselves, shook hands, and turned their jerseys inside out, from black to gold.
Another unique element of the game is the officiating crew. When a player commits a foul, head referee Steve O'Bryan explains the transgression. Some of the players nod, clearly learning the rules. Others laugh and smile, taking it as a good-natured ribbing.
Paired up with O'Bryan is Gorden Gibson, a volunteer at the Gilroy Senior Center who was looking for another opportunity to give back to his community. At 74, Gibson says, "My brain isn't in sync with my body. I feel like I'm still in high school." In fact, he spryly races up and down the court, whistle in his mouth, following the game and listening for O'Bryan's instructions.
A former athlete himself, Gibson believes that sports helped him through the sometimes trying days of high school. He can relate to these kids and how they're trying to move forward with their lives.
"In sports, there are rules, and in life, there are consequences," Gibson says. "You can break the rules in sports and not suffer the rest of your life. There are a lot of lessons learned in sports that can carry you through life."
Throughout the two, 20-minute halves, coaches shout from the sidelines. "Hands up on D!" or "Watch the back door!" Of course, both teams want to win. That's a feather in the cap of these young men who may not receive much praise from the eyes of others. But there are also more than a few encouraging words from the players themselves. "Nice try," is heard more than once after a player misses a clear shot. At one point, Steve stops the game for a 'jersey check,' and all the players make sure they're tucked in properly.
Up until this year, all Pro-Com basketball games had been played at San Jose's Alum Rock Youth Center. But this season, the city of Gilroy agreed to host the league at Wheeler.
"We're always open to anything that comes our way," said Daughenbaugh, who is now the Pro-Com Athletic/Activities Program Coordinator. The city was interested in participating in the World Health Organization's Age-Friendly Initiative.
The intent was to bring together multiple generations. Across the country, there are senior citizens who are out of touch with youth, and youth who need the kind of role models and mentors that seniors uniquely provide.
Gilroy's community is no different. But Pro-Com helps bridge that gap. Gibson, who has taught guitar to students of all ages and started an algebra class at the senior center, was a natural fit with the athletic league. It was, if you will, a slam dunk.
Just like traditional high schools, the Pro-Com players have uniforms, coaches, trained officials, and trophies at an awards banquet at the end of the year. But more importantly, for 40 minutes at a stretch, these kids are focused on something other than the circumstances that landed them here. This is the type of court they prefer.
For the record, the game was a thriller, with Central, playing with two Broadway players, jumping out to an early lead. Broadway worked hard to close the gap, falling just short in the final seconds. The score was 46-43. But as both teams shook hands, exchanged hugs, and congratulated each other when the game ended, it was clear that everyone here was a winner.