San Bernardino Celebrates Probation Services Week 2019 with Officer Awards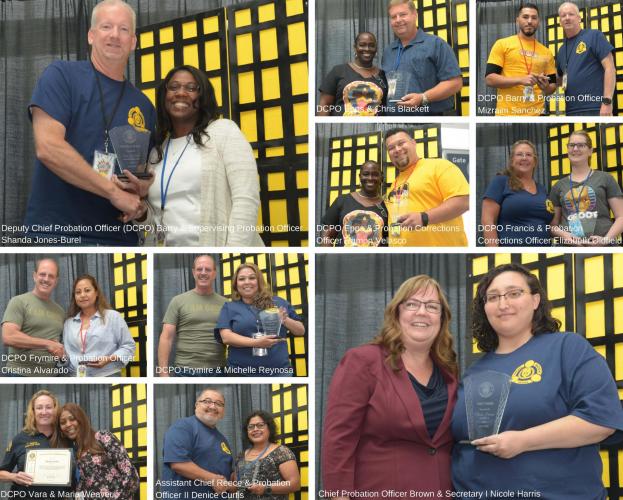 San Bernardino celebrated Probation Services Week at their 5th Annual Probation Connection event. This event offers training, break-out sessions, team building activities, and an employee recognition awards. The awards highlight the work of their officers and staff and the impact they have had on the clients they serve and the advancement of the probation mission. Below are the award recipients of those who have been recognized this year:
Employee of the Year: Supervising Probation Officer Shanda Jones-Burel
Officer Jones-Burel is a newly promoted supervisor with the skillset of a veteran supervisor. Her expertise allows her to train other officers while ensuring her assignments are well articulated and completed in a timely manner. She has the ability to assess a situation and make a decision in the best interest of the youth, while keeping the officer's safety in the forefront. She leads by example by accepting tasks with a positive outlook and being kind in her response no matter what the request may be. She is a team player amongst her peers and can be considered a team captain as she shares her wealth of knowledge.
Employee of the Year: Probation Officer Mizraim Sanchez
Officer Sanchez is assigned to the Victorville Juvenile Supervision Unit, where he is an extremely efficient officer that exemplifies team spirit. He organizes group field days in order to accomplish the mission of the unit while also creating opportunities for the staff to bond. Officer Sanchez has organized the Millionaire Mind Kids program, for at risk youth which requires advanced planning, organization and communication skills. He often goes above and beyond to assist his fellow officers in the field and with personal matters. Officer Sanchez's selfless acts and dedication exemplify the probation department's mission.
Employee of the Year: Chris Blackett
Chris is a Supervising Systems Analyst who has been with the department since April 2017. He has been a great asset to the department and has brought a "can do" attitude. Chris has been instrumental in the departments operations/sweeps, Incident Management Team, and Command Vehicles. Chris is a creative and innovative in not only the area of automated systems, but in his thinking of the departments role in the protection of the community.
Employee of the Year: Probation Corrections Officer Ramon Velasco
Officer Velasco is assigned to the Probation Training Center as a Defensive Tactics Instructor. His character, personality and his dedication not only to his current assignment, but to the department as well, is shown in his presentation, teaching and his daily operations at the Training Center. He has an ability to draw out that moment of clarity and understanding of the subject matter which lends to his ability to think "outside the box" to make sure all possible avenues are covered. Mr. Velasco has demonstrated an ability to communicate effectively with his peers, co-workers, supervisors, and various outside agencies. He is able to leave a positive lasting impression with his instruction, dedication and passion.
Employee of the Year: Probation Corrections Officer Elizabeth Oldfield
Officer Oldfield is considered to be an asset at the Central Valley Juvenile Detention and Assessment Center. She demonstrates a great work ethic and is a detail oriented employee. She accepts constructive criticism and views it as an opportunity to learn. She remains calm in crisis situations and is often able to deescalate critical incidents prior to them occurring. She is a natural leader and well respected by her peers.
Employee of the Year: Probation Officer Cristina Alvarado
Officer Alvarado has been instrumental in all aspects of the first phase of the developing the new Pre-Trial Unit. She has amazing insight and makes great recommendations to help improve current processes. Officer Alvarado has built a great working relationship with outside agencies and maintains effective interaction with her peers and her immediate supervisor. She is extremely hard working and thrives in a team environment by assisting and mentoring fellow officers. Officer Alvarado is a highly skilled officer and is a leader amongst her peers.
Employee of the Year: Michelle Reynosa
Michelle is by title an Office Assistant III, but by practice, a greeter, trainer, party planner, and a source of never-ending knowledge. She is the glue that holds the team together. Michelle is a team player that goes above and beyond. Every member of the team benefits from her presence in either small or large parts.
Employee the Year: Maria Weaver
Maria is an Office Assistant IV for the High Desert Juvenile Detention and Assessment Center. She assists with staffing, reception and the previously vacant secretary position. Maria is very involved with all functions held at the facility; including Family Day, the Cultural Diversity Potluck, and the Winter Social. She has an excellent rapport with her co-workers, facility staff, supervisors and directors. She is known to be a go-getter and the person who has the answer. She is an asset to her unit and the department.
Lifesaving Medal: Probation Officer Denice Curtis
On May 22, 2019, on her way to work, at approximately 7:30am, Probation Officer Denice Curtis witnessed a vehicle accident in which a vehicle swerved off the road, struck a boulder, and flipped three times, ejecting the passenger of the car. PO Curtis immediately responded to the accident, observed the ejected passenger had suffered serious injuries to the head, and was not breathing. She further checked for a pulse and determined that the injured party required CPR and was in dire need of medical treatment. PO Curtis contacted 911 to report the accident, reported the need to emergency medical services to respond, and asked for the assistance of another bystander that had stopped to assist. She and the second citizen responder began CPR and rescue breathing on the injured person as they waited for EMS to arrive. EMS arrived approximately 10 minutes later and took over the emergency situation. PO Curtis reported that at the time EMS arrived, she and the assisting citizen had succeeded in obtaining a pulse from the injured person. Officer Curtis' unselfish actions and valiant services, reflect great credit upon herself and are in keeping with the highest tradition of humanitarian service.
Chief's Award given by Chief Probation Officer Brown: Nicole Harris
Nicole is a constant source of reliability and authenticity, going above and beyond her daily assignments to help make the department better. She has a calm and quiet demeanor but is fierce and tenacious when it comes to getting things done. As secretary for the External Affairs Unit, she participates in all activities and functions and assists in editing many publications. She has played a major role in creating the Department Annual and organizing this year's 110-anniversary celebrations. But her assignment is unique and Nicole is often called upon to help in many other areas. She covers the administration office frequently and prepares the departmental awards. She has played a major role in the department's annual Probation Connection training events and has coordinated the Administrative Professional Training Symposium for the last two years. It is obvious that Nicole cares about her work – as well as the work of her unit and her director – and her professionalism, organization, and loyalty over the years has helped the San Bernardino County Probation Department flourish. She deserves recognition for always exceeding expectations.