Sonoma County Probation Officer Receives APPA's Line Officer of the Year Award
Ermelinda Miramontes Honored with American Probation and Parole Association's 2021 Scotia Knouff Line Officer of the Year Award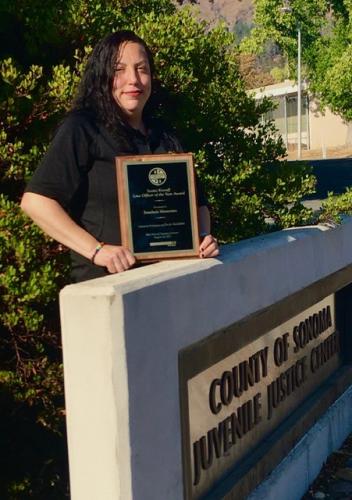 Ermelinda Miramontes, Deputy Probation Officer III from Sonoma County Probation, was honored as a 2021 recipient of the American Probation and Parole Association's Scotia Knouff Line Officer of the Year Award. As one of the most competitive and prestigious practitioner awards offered by APPA, it honors probation, parole, or community corrections officers who have shown excellence and outstanding performance in their duties while providing hope, help, and accountability to their clients.
Sonoma County has faced several significant obstacles in the last four years: floods have impacted detention facilities like the Juvenile Probation Camp. A historic wildfire led to the evacuation of the Juvenile Justice Center, and there was a closure of adult and Juvenile Courts for several weeks. The fire devastated the community, and in 2018, Sonoma County was hit by devastating floods that led to the evacuation of the same detention facility. In 2019, there were Public Safety Power Shut Offs and more catastrophic fires. By 2020, the COVID-19 pandemic, civil unrest, and even more fires hurt the community. Despite the incredible barriers Sonoma County faced while trying to rebuild its community, they persevered.
Staff members like Deputy Probation Officer Miramontes have overcome significant challenges in their professional and personal lives, remaining dedicated to the community they serve. Officer Miramontes took care of her co-workers by volunteering to help create a Peer Support Team. She received the required training as a Peer Supporter and took additional steps to become certified as a Mind-Body Skills facilitator.
Probation officers like Officer Miramontes connect behavioral change to sustainable community safety.
She recognizes that officers must take care of themselves to be their best selves for the community and the probation clients they serve. One of the individuals that took Ermelinda's class said, "Ermelinda shared some of her challenges that are far beyond my experience while teaching this class, making it so real and relevant that I can't even describe. She showed strength and subject matter knowledge modeling the benefits of mind/body mindfulness."
Officer Ermelinda Miramonte's dedication and commitment to wellness for her justice-involved clients and her colleagues are evident in her work creating the peer support group and reflecting her compassion and empathy during these turbulent times. She is a prime example of how probation connects service and needs to enhance community safety and restoration. We congratulate Ermelinda on this well-deserved award and her significant impact throughout the Department.