SPOTLIGHT: Madera Probation Helped Residents Stay Safe During Creek Fire
Department Spent Three Weeks Helping Counties Evacuate California's Largest Single Fire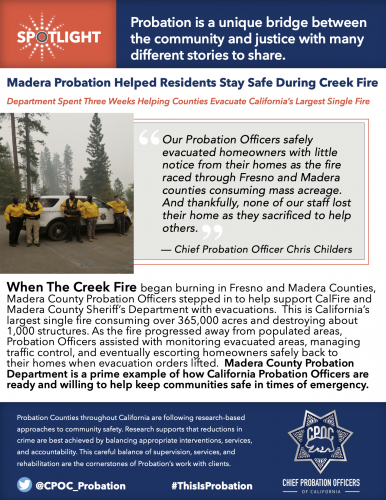 When The Creek Fire began burning in Fresno and Madera Counties, Madera County Probation Officers stepped in to help support CalFire and Madera County Sheriff's Department with evacuations.
This is California's largest single fire consuming over 365,000 acres and destroying about 1,000 structures. As the fire progressed away from populated areas, Probation Officers assisted with monitoring evacuated areas, managing traffic control, and eventually escorting homeowners safely back to their homes when evacuation orders lifted.
"Our Probation Officers safely evacuated homeowners with little notice from their homes as the fire raced through Fresno and Madera counties consuming mass acreage. And thankfully, none of our staff lost their home as they sacrificed to help others." — Chief Probation Officer Chris Childers
Madera County Probation Department is a prime example of how California Probation Officers are ready and willing to help keep communities safe in times of emergency.