"Wall of Change" Honorees Share their Success Stories at Special Event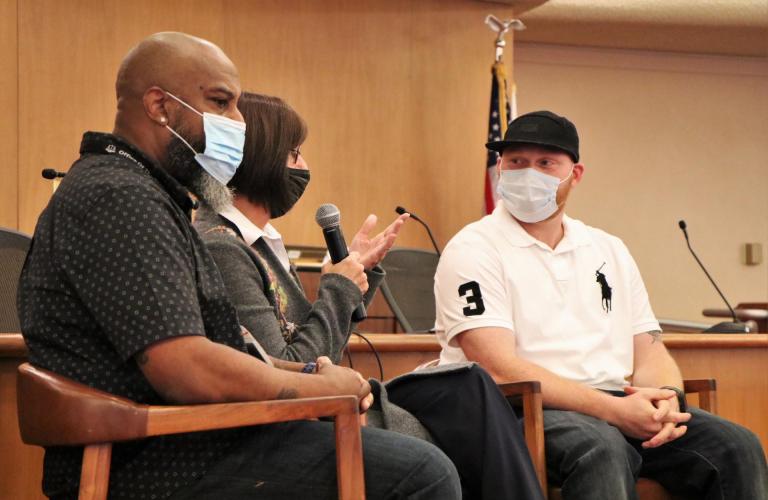 On December 1, 2021, twenty-three probationers were honored at the Marin County Civic Center's Board of Supervisors chamber for positively changing their lives and inspiring others. Each probationer was celebrated on the Marin County Probation Department's Wall of Change, where personal stories of their transformations are documented in the department's lobby for all probationers to see. The Wall of Change ceremony was an emotional tribute to the 2020 and 2021 induction classes. The 2020 event was postponed due to the COVID-19 pandemic.
Once a year, a committee selects the most inspirational stories of the year and holds a heart-warming celebration for those who make it on the Wall of Change. The framed Wall of Change stories and photos include a first-person account from the probationer and words from their assigned probation coach. The annual ceremony honors both probationers, probation officers, and other supporters.
The in-person ceremony was hosted by Marin County Probation Chief Marlon Washington and his staff. Teresa Bowman, Buckelew Program's Director of Substance Use Services, served as the emcee. Longtime supporter and former probation officer Michael Pritchard – known best as a comedian and motivational speaker – was presented with a special award, as was beloved substance abuse counselor Milton Paul, who sadly passed away in November 2020. The event also opened with a short documentary film created by Vincent Cortez of Mitchell Street Pictures.
The inspiring ceremony showcases the achievements of probationers who have overcome incredible obstacles to become healthy, safe, and productive members of society. Chief Probation Officers of California congratulates the honorees and those who helped support them on their journey.