Women's History Month Highlight: Officer Stokes & Officer Juarez
March is Women's History Month and to celebrate the month CPOC is highlighting some of the incredible women Probation officers and the work they do for our communities.
Probation Fact: 51% of Probation Officers in California are women
2 of those officers are Fresno County Probation Officers Tiffany Stokes and Hillary Juarez. Both have dedicated to working with youth to help them onto healthier pathways in the community.
Thank you for your work to help youth and our communities!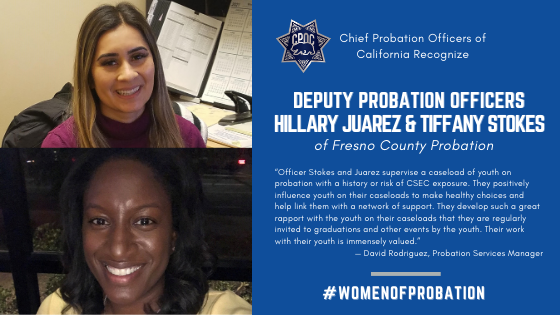 "Officer Stokes and Juarez supervise a caseload of youth on probation with a history or risk of CSEC exposure. They positively influence youth on their caseloads to make healthy choices and help link them with a network of support. They develop such a great rapport with the youth on their caseloads that they are regularly invited to graduations and other events by the youth. Their work with their youth is immensely valued. "