Women's History Month Spotlight: Removing Barriers & Changing Lives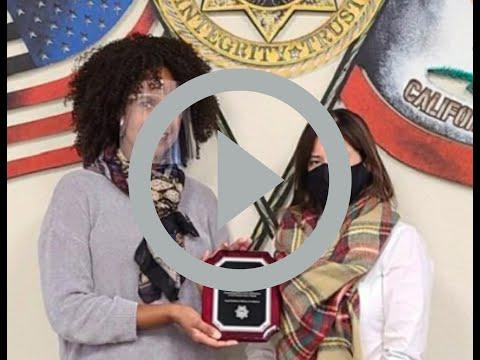 From the Merced County Times.
For someone like Kelly Turner, a fulfilling life is being wide awake at 5:30 a.m. for the drive to Los Banos where a troubled young man is in need of a ride to court.
It's a 19-hour Saturday for a field trip to Folsom Prison where a group of teens experience a heartfelt and emotional intervention program and then a decompression dinner in Sacramento.
It's nonstop brainstorming on ways to keep a home for homeless young women up and running, and figuring out how they and others can obtain the preparation and skills needed to find a job.
And it's coming home at midnight sometimes wondering if the connection she made that day will help turn another life around.
"There is so much stuff that we do outside the normal 8 to 5, Monday through Friday, that the community isn't aware of," she says. "Most people are not aware of how long it takes to break through the barriers, and the mistrust these young people have of adults. It takes a long time. So it takes two, maybe three years, to see a little bit of light at the end of the tunnel. It's that moment, when you say, 'Oh my goodness, they really are getting what we are doing. They trust us. They like us.'"
Since 2014, Turner has collaborated vigorously with local and state probation agencies to help disadvantaged young people move out of the criminal justice system and into a positive and productive life in society. She has worked with well over 300 kids, and counting. She is the author of two books — The Art of Frowns to Smiles and The P.O.W.E.R Process (Positive Objects & Words Equals Results). And she wrote these books while simultaneously forming the non-profit Symple Equazion program, which facilitates cognitive behavioral therapy groups using her books to outline the steps she took to transform her own life.
Some local residents may simply know her from numerous appearances at City Hall where she has consistently advocated for funding to support local youth activities.
For her hard work and dedication, Turner was recognized recently at the annual awards of the Chief Probation Officers of California. She was presented with the Tim Fitzharris Award, an honor bestowed to a non-probation employee who has made a very significant contribution to the field of corrections and public safety.
"I was surprised and humbled," she says. "It's also renewing. It helps give me the stamina and resolve to continue to do the work that other people really do see the value in. This work I do can be so heartbreaking."
Turner is uniquely qualified to work with troubled youth because her own life story is one of overcoming adversity and positive transformation. She was born and raised in South Central Los Angeles, near the USC campus. Her early teen years were marked by trouble with the law. She was first arrested at the age of 14. She was later sent to prison a few weeks shy of her 20th birthday. She would go on to serve three different prison terms for a total of 19 years and 8 months.
The longest period was as a "resident" of Central California Women's Facility (CCWF) in Chowchilla, where she served 13 years of a 25 years-to-life sentence as a part of the state's Three Strikes Law. She received this sentence after forging a $146.16 check to a department store. The normal maximum sentence for her crime was three years. However, because it was Ms. Turner's third strike for a non-violent offense, she was required to serve a minimum of 25 years before she was eligible for parole consideration. However, on September 8, 2009, after a three-year appeal effort by her pro-bono legal team, a Los Angeles Superior Court judge ruled that "Ms. Turner had been over sentenced."
Today, she still gets a ton of questions from young people on probation about what it's like to be serving time in prison, and every once in a while, they ask why she stopped "misbehaving"
"Most of the time, when they find out I served time in prison, it removes a lot of the barriers. I give them an example or two. It helps break the ice. And I use my experience to my advantage.…"I can also see me in them. And so before they make their next move based on what they just did, I'm able to say, 'Let me share a little story with you. I did X Y and Z, and this is how it turned out for me. You just did X Y and Z, and if you keep doing it, you are going to be just like me, thinking A B C' …"My experience helps me protect myself as well. I know those who I should spend more time with, and I know those who aren't ready to receive it."
Turner's most recent accomplishment is opening the Aim High Transitional Home for young ladies, 18 to 24 years of age, currently homeless or at risk of homelessness, in hope of expanding her efforts to create a healthy community. They have assisted 69 young women over the past year.
"It's a no-cost home started last year," she says. "It's been very rewarding and very frustrating too. And it has shown us the need we have in the community for a work readiness program."
Read the full article here.