Probation Employees and Staff Receive Statewide Recognition from the Chief Probation Officers of California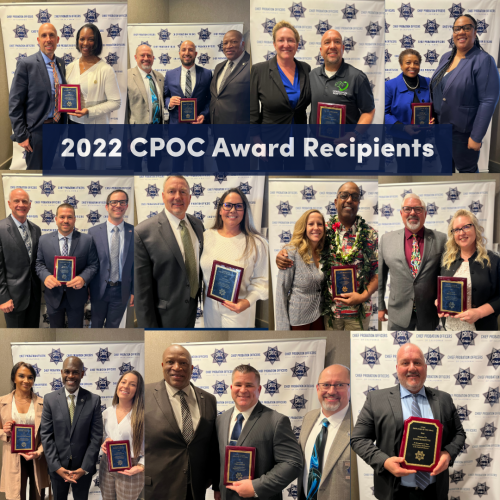 Sacramento, Calif. – December 8, 2022 – Today, the Chief Probation Officers of California (CPOC) honored employees at their 2022 CPOC Awards Ceremony. The awards are given to an employee of any rank selected by the CPOC Region for meritorious service, significant contributions, career achievement or other reasons of the region's choice. Additionally, there is a non probation employee award and a judicial award.
"Thank you to all the exceptional award recipients who were able to attend today. We admire your strong work ethic, compassion, and perseverance," said San Mateo Chief and CPOC President John Keene. "Probation officers and staff play an integral role in ensuring that we are delivering services and support to our community and help make probation the alternative to incarceration. We are thankful that you help keep communities safe and serve as a vital connector in the justice system."
Each year the Chief Probation Officers of California select outstanding employees and other persons who make significant contributions to the field of Probation and present the awards at a luncheon in December. Winners are selected from nominations received from a Chief Probation Officer. Each affiliate organization (PBMA, CAPSA, CAPIA, and PITMA) selects an honoree as well. Chiefs nominate their staff and a winner is selected for each CPOC region. The CPOC employee of the year is selected from the five regional winners.
This year's California Probation Employee of the Year was Deputy Probation Officer Jim Schuette from Shasta County Probation. You can hear a little from 2022 California Probation Officer of the Year Jim Schuette here.
"We are proud of our probation officers and staff who are dedicated to serving communities," said Karen Pank, Executive Director of CPOC. "We owe our success to these individuals who keep communities safe by carefully balancing accountability and opportunity for people in our justice system. Probation officers play a vital role in public safety and we thank you for your dedication to the probation profession."

James (Jim) Schuette | Shasta County – Northern Region and California Probation Employee of the Year. More here
Larry Younger | Sonoma County – CPOC Award of Excellence. More here.
Jonell Casada | San Benito County – Bay Region Employee of the Year. More here.
Kirstie Williams and Simone Spencer-Thompson | Sacramento County – Sacramento Region Employees of the Year
Todd Hough | Riverside County – South Region Employee of the Year
Penni Brown | Inyo County – Central Region Employee of the Year
Jim Amaral | Nevada County – Trainer of the Year. More here
Russell Degnan | San Bernardino County – Tim Fitzharris Award for Non-Probation Employee
Judge Desiree Bruce-Lyle| San Diego County – Judicial Officer of the Year Award
Dwayne Martin | Butte County
Dana Schultz | Orange County
Nicole Wesley | San Joaquin County
Daniel Castaneda | Riverside County
For more information about CPOC, please go to www.cpoc.org.
Media Contact: Laura Dixon laura@cpoc.org
---
The Chief Probation Officers of California, are an association of all 58 counties with a shared identity as law enforcement leaders. We are committed to a research-based approach to public safety that promotes positive behavior change. Our leadership guides policy and practice in the areas of prevention, community-based corrections, secure detention and direct human services. Our goal is to prevent crime and delinquency, reduce recidivism, restore victims and promote healthy families and communities. We proudly serve our Counties and Courts.
###